If you're starting to look into how to buy your first home and you're concerned that your deposit is too small, don't worry yet! There are several options available to help you get on the property ladder even with a small deposit.
Of course, having a large deposit is usually better as decreases your LTV (loan-to-value), giving you access better mortgage rates and reducing your risk of experiencing negative equity – but many first-time buyers simply aren't able to save that much upfront.
Fortunately, there are many different products and schemes available to help you make the most of the deposit you do have. Find out more in this guide.
What Is a Mortgage Deposit?
A mortgage deposit is the money you contribute towards buying a property with a mortgage. A mortgage broker like John Charcol will help you figure out how large a deposit you need to provide when applying for a mortgage, based on your income and the property you want to buy.
The minimum deposit for a mortgage on a main residence is 5% of the value of the property you want to buy, but it's worth putting down at least 10% if you can as it'll give you access to far more – and much better – rates. (There are special cases for no deposit and Family Springboard mortgages too).
Some lenders offer 95% mortgages, for which you'll only need to put down 5%. However, these products aren't as common as 90% LTV mortgages so the rates tend to be higher.
This leads us on to something called LTV (loan-to-value). LTV refers to the relationship between the loan (mortgage) and the value of the property.
Here's how it works:
If you provide a 5% deposit, then you'll need to take out a mortgage on the remaining 95% of the property value. The LTV in this scenario is 95%
If you provide a 10% deposit, then you'll need to take out a mortgage on the remaining 90% of the property value. The LTV in this scenario is 90%
The higher your deposit, and the more of the property value it covers, the lower your LTV and the less you need to borrow on your mortgage.
How Much of a Deposit Do I Need?
The minimum deposit you need for a mortgage on a main residence is 5% or the property value, but it's generally a good idea to save around 10% if you can. Although both are considered relatively small deposits. How much this actually amounts to will depend on the value of the property.
How much you need for a deposit in monetary terms will depend on the value of the property you're buying, how much you can borrow earn and whether you're buying the property on your own or with other people. Buying with another person makes it a bit easier as you can combine your savings to make up the deposit you need (e.g. 10%) and your combined incomes will allow you to borrow more on a mortgage overall.
To determine how much you'll need to save in deposit, think about the type of property you want to buy and whether you'll be buying with other people or alone. Sites like Zoopla and Rightmove will give you a good idea of property prices in your chosen area. You can typically borrow up to 4.5 times your annual salary from a mortgage lender. But this will be subject to affordability and what deals are available at the time. You can then work out how much you might be able to borrow and the difference between that and the price of the house you are hoping to buy.
Example
You want to buy a house that costs £200,000
You and your co-applicant have a combined annual salary of £40,000
£40,000 x 4.5 = £180,000
£200,000 - £180,000 = £20,000
In order to buy the house you want, you'll need a deposit of £20,000 (10%)
Of course, it will help if you can save more than the minimum deposit, as this will reduce the amount you'll have to borrow and means you'll be paying less interest to the lender. You'll also have access to better mortgage deals, cheaper monthly repayments and a better chance of having your mortgage application approved.
You can work out if your deposit meets the minimum requirements for a mortgage on the house you want to buy with our loan-to-value mortgage calculator.
You can then use our calculator to work out how much you can borrow based on your annual salary and see if this amount – combined with your deposit – is enough to buy the property you want. If it's not, you'll need to consider other options – which we'll go through below.
Keep in mind that there are several other costs you'll need to save up for when buying a home, including solicitor and mortgage fees, Stamp Duty – if the property you want to buy is over £300,000 - valuation fees, surveys and moving costs. As a first-time buyer, you may also need to factor in the costs of buying furniture.
How Can I Save for a Deposit?
If you're worried about buying your first home with a small mortgage deposit and you want to try to save a bit more, there are a few simple things you can do to boost your savings. We go through some options below.
Trim Your Spending
Once you've decided it's time to buy your first home, ensure you are doing everything possible to save towards your mortgage deposit. This includes cutting down on unnecessary expenses to help you increase what you can put away. With price comparison websites, you can compare the cost of everything from your weekly food shop to your utilities – this can help ensure you're getting the best deals. Setting a budget and sticking to it can also help you manage your spending.
Boost Your Savings
To help maximise your savings, it's a good idea to put them into a savings account. It can help you avoid the temptation of spending the money you've saved. One option is a Lifetime ISA (LISA), designed for first-time buyers aged 18 to 40. You can put in up to £4,000 a year until the age of 50. The Government will add 35% to your savings – up to £1,000 per year.
Gift Deposit
Some first-time buyers are fortunate to receive financial help from their parents, known as a gifted deposit, to help them get on the property ladder. You'll need to provide your mortgage lender with proof that the money is a gift and that the person giving it to you doesn't expect to have any claims on the property or to have the money reimbursed.
Reduce Your Rent
Saving up for your first home can be harder when you have to pay rent. Even reducing your rent for 6 - 12 months can make a considerable difference to your deposit. The following include some options to help you cut back on your rent.
Downsize or Relocate
Downsizing to a smaller property in a cheaper area might not be ideal, but it can help you increase the amount of money you can save. You could also choose an area with a cheaper commute.
Move Back In with Parents
It may not be an option for everyone, but if you get on with your parents, they have space and are happy to have you, then staying with them for a short time is a great way to boost your savings. You'll need to discuss what financial contribution you'll make to the household and how long you play to stay before you move in.
Move In with Friends
If you have a friend with a spare room, you may consider moving in with them for a short while so you can both save on living costs.
Share a House
Renting a room in a shared house will likely be considerably cheaper than renting on your own and give you a good chance to save thanks to shared costs.
Get a Lodger
If you have a spare room, taking in a lodger can be a way to reduce rent and split your bills. Check with your landlord first that they are happy for someone else to move in. There are several websites where you can advertise your spare room to find a lodger.
Help Buying Your First Home with a Small Deposit
Finding it near impossible to save a bigger deposit? Here are some options specifically designed to help you buy your first home with a small deposit.
Help to Buy Equity Loan Scheme
The Help to Buy scheme runs until March 2023 and allows first-time buyers to purchase a new build property with a 5% deposit. For first-time buyers in England and Greater London, the Government will lend up to 20% of the cost of a new build property, or up to 40% if the property is in London. There are different equity loan schemes across England, Greater London, Wales, and Scotland.
For the first 5 years, the equity loan is interest-free and you won't have to make any repayments during this time. You can also use contributions from a LISA to pay towards this. As the equity loans helps make up a larger deposit, you won't have to borrow as much from your lender, which means your initial mortgage repayments will be lower.
To qualify for this scheme, you need to make your reservation for a new build property by the end of October 2022.
Shared Ownership
Shared Ownership allows you to buy a share of a property and then pay rent on the rest. You'll only need a mortgage for the share of the property that you're buying, allowing you to put down a smaller deposit. Depending on what your lender says you can afford, the share of the property you buy will be between 25% and 75% of the property's value. For example, on a £230,000 property:
A 50% share requires a 5% deposit, equivalent to £5,750. You'll pay rent on the remaining 50%
A 25% share requires a 5% deposit, equivalent to £2,875. You'll pay rent on the remaining 75%
One of the great things about shared ownership is that you can buy chunks of the equity in your property bit by bit from the council or housing association your currently renting part of it from. This is called staircasing.
How Your Credit Score Can Help You Buy Your First Home
As part of your mortgage application, the lender will look at your credit report when considering whether to lend to you. If you have a small mortgage deposit, improving your credit score could help to increase your chances of the lender approving your application.
It's a good idea to check your current credit score with one of the 3 main credit agencies to see how you'll look to a potential mortgage lender. These are TransUnion, Equifax and Experian. Go through your report carefully and make sure any mistakes are corrected. If your credit score is fairly low, you can boost it by ensuring you are on the electoral register, paying all your bills on time and using your credit card responsibly.
What Are the Pros and Cons of a Low Deposit Mortgage?
An obvious positive of a low deposit mortgage for first-time buyers is getting on the property ladder more quickly and easily as you don't need to save as much upfront. However, while that's a clear benefit, you won't have the same choice of mortgage products as fewer lenders are happy to offer mortgages to buyers with a small deposit of 5%. You may also be required to pay more in fees.
From a lender's perspective, low deposit mortgages are riskier, so you'll likely have to pay a higher interest rate on the mortgage, particularly with a deposit of 5%. This means that the overall cost of borrowing will be higher.
There's also a greater risk of negative equity when you put down a small deposit if house prices fall and the size of your outstanding mortgage is more than the home's value. This can make it difficult to remortgage and get a new deal when your initial fixed-rate contract ends. You may also struggle to raise enough money from the sale of your house to clear your existing mortgage or put down a sufficient deposit on a new property if you decide to move.
You'll have a greater variety of options, access to lower rates, less chance of negative equity and have to pay back less overall if you can save a slightly bigger – although still small – deposit of 10%.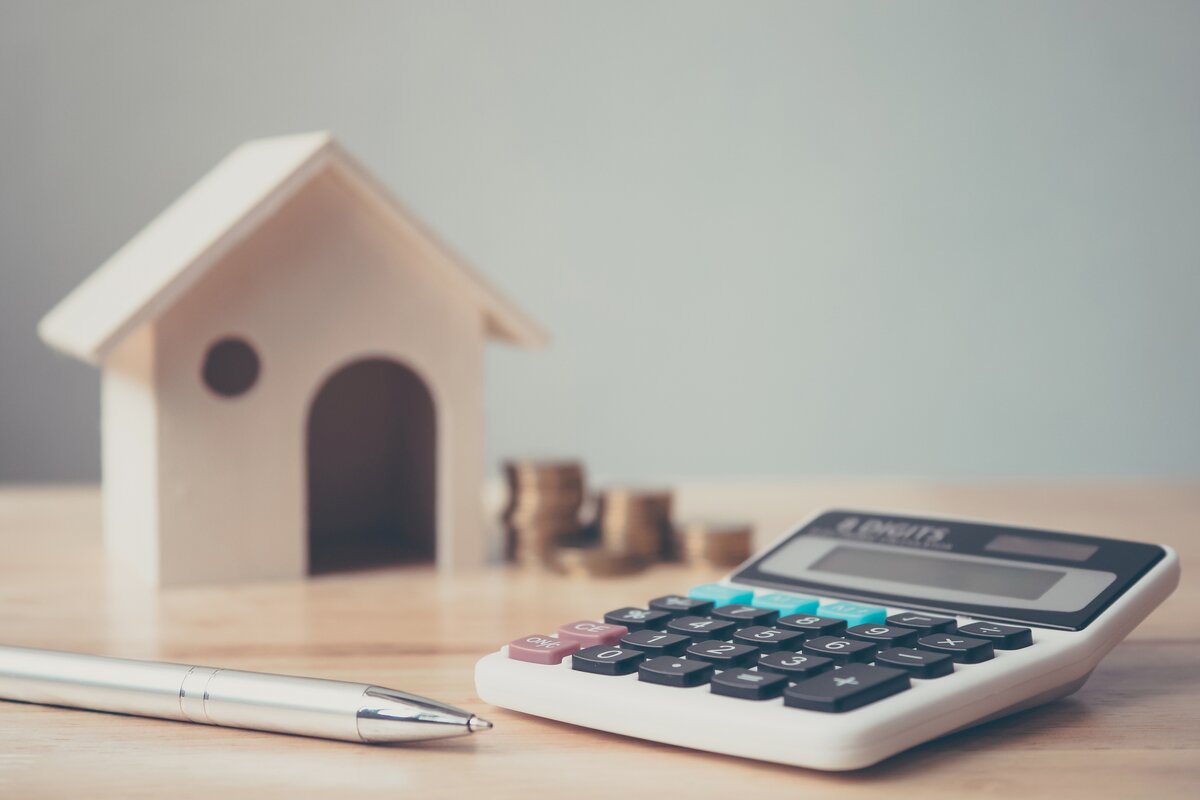 Can I Get a Zero Deposit Mortgage?
If you're finding it extremely difficult to save up a big enough deposit to buy your first home, you may be able to get on the property ladder with a 100% loan-to-value (LTV) or no deposit mortgage. These types of mortgages are available through different lenders and each have different names, such as Family Springboard mortgage and Family Assist mortgage. With these 100% mortgage products, you borrow the full property value without putting down a deposit in the traditional sense. Instead, a family member puts money into an interest-earning savings account with the lender – typically about 10% of the value of the property you're buying – and the lender grants you a mortgage on 100% of the property. The money in the savings account acts as a kind of placeholder deposit until you've paid back a certain amount of the mortgage loan and the money is released back to the family member. There's also another option with this kind mortgage, whereby the lender puts a charge on the family member's property instead of the family member putting money into a savings account. No payments are made towards this charge and it is removed once you've paid back a certain amount of the mortgage.
Got the Deposit But Low Income Limiting Your Maximum Borrowing?
You may have heard of a guarantor mortgage. This is different from a no deposit mortgage. With a guarantor mortgage, a family member guarantees to meet your mortgage repayments should you be unable to. Mortgages with guarantors aren't really available anymore, instead lenders offer joint borrower sole proprietor setups. Joint borrower sole proprietor setups can allow you to borrow more overall on your mortgage, so they're helpful for people with low incomes who want to boost their maximum borrowing. If you'd like to know more about joint borrower sole proprietor, speak to an adviser on 0330 433 2927.
Buying First Home Checklist
When buying your first home, a deposit isn't the only thing you'll need to save for. From Stamp Duty to valuation fees, it's useful to know what extra costs you'll be required to cover. Then you'll have a better idea of how much you'll need to buy your first home.
Here are the costs you'll need to factor into your savings goal.
Deposit
Your mortgage deposit is likely to be the biggest upfront cost you'll need to save up for as a first-time buyer. The money will need to be in place when you apply for a mortgage and should be at least 5% of the property price.
For example, for a property costing £200,000, you'll need to save:
15% deposit = £30,000
10% deposit = £20,000
5% deposit = £10,000
Stamp Duty
As a first-time buyer, you won't have to pay any Stamp Duty on the first £300,000 of the property's purchase price. You'll pay 5% tax on the amount over £300,000 and up to £500,000. You won't qualify for the first-time buyer Stamp Duty exemption if you purchase a property valued at over £500,000.
Mortgage Valuation Fee
The mortgage lender will arrange for a valuation of the property you are hoping to buy before they send you a mortgage offer. You can pay anything between £150 to £1,500 for a valuation for lending purposes. The amount will depend on the value of the home you are buying. You'll usually be required to pay the valuation fee right away. However, sometimes it's added to the mortgage.
Survey Fees
You'll likely need to pay for a mortgage valuation for lending purposes when you get a mortgage. Some lenders will do a desktop valuation, also known as an AVM. Others will arrange a physical valuation where the surveyor visits the property to make sure the property is its market value and there are no concerning issues.
It's worth considering organising an independent survey for the property you're looking to buy, such as a homebuyer's report – or a structural survey if you're planning on making substantial changes to the property. Depending on the survey you arrange, the surveyor will look at things like, potential issues in relation to the condition of the property, its structure, etc. Survey fees vary considerably, depending on the detail of the survey you want and the size of the property.
Valuations and surveys typically cost between £250 and £2,500.
Solicitor Fees
Solicitor fees can vary considerably; you can expect to pay anywhere between £800 and £2,000, which covers their legal costs and searches. Some lenders even offer free legals as an incentive for borrowers.
Insurance Premiums
Your mortgage lender will require you to have buildings insurance in place to protect your new home from major damage such as fire and flooding. It's also a good idea to take out contents insurance for your own belongings. The cost of insurance varies depending on your circumstances.
Removal Costs
The price of removal services will depend on the number of items you're moving to your new home and the distance you'll be moving. However, it's a good idea to factor at least £750 into your budget for removals. You may choose to hire a van and move yourself to save money; this might cost between £100 and £200.
To find out more about mortgage deposits or for advice about buying your first home with a small deposit, get in touch today on 0330 433 2927 or contact us online by making an enquiry.