Want your home to finally live up to its full potential? Renovations are a great way to get the house of your dreams without uprooting your life. They can also be a lot cheaper than moving. Nonetheless, most worthwhile home improvement projects aren't exactly cheap. Luckily, there are a few different finance options out there and we go through them in this guide.
Home improvement loan or remortgage? Further advance or second charge? If you're not sure which finance option best suits your needs then keep reading. We break down how each option works and give you the information needed to better understand what's right for you.
Steps To Take Before Taking Out House Renovation Finance
You're likely to have a budget in mind for your project – but is it realistic? Before you start, make sure you get numerous quotes from tradesmen, research the materials and tools you'll need and think about the way you want to furnish your home. Once you're all costed up, you can start securing the money.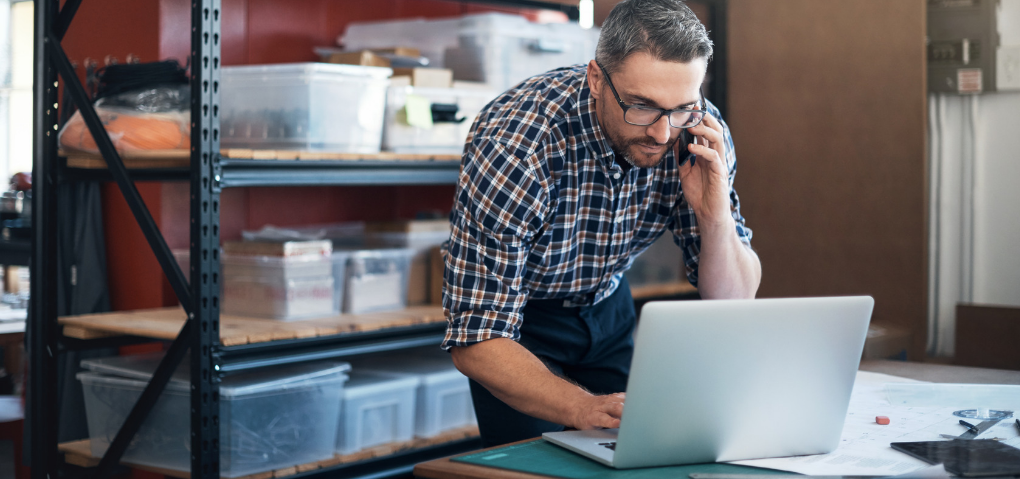 You can fund projects at £10,000 and below without using any home equity by taking out a personal loan for home improvements; this is normally just an unsecured loan you borrow for the specific purpose of improving your property. Or, you could instead apply for a 0% credit card that has a high enough credit limit for your needs. These options can sometimes be a lot more straightforward for smaller projects than getting a further advance, remortgaging or taking out a second charge loan.
But beware: if you plan to consolidate these debts into your mortgage further down the road, you may fall foul of the terms and conditions of your mortgage at that time as not all lenders will allow a further advance/remortgage for debt consolidation. We also recommend that you speak to a mortgage adviser about whether it's the right thing to do before making any big decisions.
Taking out a personal, unsecured house improvement or house renovation loan allows you to finance your home improvements via fixed payments, which you typically repay over 1 - 7 years.
Equity Release for Home Improvements
If you've got bigger plans that require more money, then you may need to release some of the equity in your home in order to secure enough funds. You would typically do this via remortgaging, asking your lender for a further advance or taking out a second charge loan.
These ways of releasing equity shouldn't be confused with some forms of later life lending also known as equity release or lifetime mortgages which are normally taken out by borrowers over 55 who want to release funds from their properties for the duration of their retirement.
Find out how home equity works in more detail below.
What's Home Equity?
The amount of equity you have is the current market value of your home minus any outstanding mortgage balance owed. Your home equity usually changes the longer you own your property. If you've owned your home for a few years, it's likely it may have increased in value. Furthermore, you could have paid off some of your mortgage in that time – these changes will likely result in an increase in your home equity.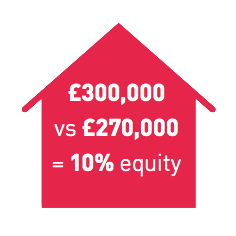 You buy your home for £300,000, you borrow £270,000 with a £30,000 deposit
Your home equity is £30,000, 10% of the initial property price
5 years pass and your home is now worth £350,000. You've also paid off £40,000 of your mortgage.
Your remaining mortgage debt is £270,000 - £40,000 = £230,000
You own the remaining value: £350,000 - £230,000 = £120,000
Your home equity is now £120,000, 34% of the current £350,000 value
As you now have more equity in your home, you may be able to borrow more against it which could help with funding home improvements or renovations. Whether you can borrow more money, the options available to you and how much you can actually borrow will depend on your situation as well as your incomes and expenditures.
Further Advances
A good way to think of a further advance is as a top up of your current mortgage.
Unlike remortgaging, you stick with the same lender and the terms of your original mortgage might not change. However, it's likely you'll end up paying 2 rates. The first will remain the same, as it's based on your existing mortgage and the second will be a different rate on the extra money you've borrowed which is usually a smaller amount.
The rate of interest on the additional money you borrow may be more or less than your existing mortgage. It can also be fixed or variable. We advise that you make note of when any early repayment penalty period ends, especially if this doesn't coincide with the end date of your original mortgage product.
If the fixed rate period of your mortgage doesn't coincide with the fixed rate on your further advance, you ought to prepare yourself for the rate on one or the other - and possibly your monthly payments - to change to the standard variable rate.
Further Advance Pros
Unlike remortgaging, you don't necessarily have to wait for the right time to borrow more
You can keep the same rate on your existing mortgage
A further advance can be faster to arrange than a remortgage as solicitors are rarely involved
Further Advance Cons
It may be difficult to harmonise your rates and repayments in the future
Lenders will fully underwrite the entire mortgage whilst assessing the further advance. This means they may require changes to the repayment method for any interest-only elements already in place
Remortgage for Home Improvements
Remortgaging is another way you can use your home equity to finance work on your property.
Remortgage for Extension, Renovation and More
Many people choose to remortgage to fund bigger and more costly home improvement projects - like an extension, a renovation, a second bathroom, etc.
The amount you can borrow on a remortgage will be determined by:
The available equity in your home
The new lender's assessment of your overall affordability - your income, expenditure, credit score, etc.
Remortgaging Cons
Remortgaging sometimes incurs extra fees, like early repayment charges or solicitors' fees
It can extend the length of your mortgage, so you're making repayments and interest payments for a longer period of time
The process often takes longer than a further advance as it will almost certainly involve solicitors and you may need a valuation
Sometimes, remortgaging requires that you give up the low rate you currently have on your mortgage, only to pay more interest on your new remortgage rate
Remortgaging Pros
Remortgaging can give you a better rate on your entire mortgage, meaning you could pay less on your monthly mortgage repayment or you could apply for a shorter overall term
Your borrowing is consolidated under the same arrangement which can be easier to manage than a further advance, where you might have 2 different rates in effect over different periods of time
Second Charge
A second charge is a form of secured loan. It's a different way for you to use the equity in your home to fund home improvements. A second charge is like a second mortgage as you use a different lender.
You may find a second charge suitable if your existing lender won't let you borrow the amount you need under your current mortgage arrangements. It might also be suitable if you're currently on an interest-only mortgage and are unable to borrow any more without making major alterations to your current mortgage set up.
Like a further advance or remortgage, the amount you can borrow on a second charge depends on how much equity you have in your home and the lender's affordability calculation.
The rate on a second charge may be higher than the rate on your existing mortgage, however it's normally lower than the rates you'd find on an unsecured loan or the standard rates on most credit cards. Repayments are also often spread over a far longer period than those on unsecured loans - whether this is an advantage or disadvantage depends on your circumstances.
A second charge may be attractive to those who don't want to lose their current rate by remortgaging but can't borrow any more from their current lender.
Second Charge Pros
It's secured using your home equity, which means it has lower interest rates than an unsecured loan
You don't risk losing a current favourable interest rate by remortgaging to a new lender
You don't have to leave your current lender to have one, which means you can keep current arrangements in place
Second Charge Cons
Like a further advance, a second charge means taking on more debt over a longer period. You should always work out the total cost of borrowing over the whole course of both mortgages and if you can afford to pay 2 monthly repayments before taking out a second charge
You may find that a second charge is more difficult to take out than your original mortgage, particularly if your household income has dropped
Secured lending puts your property at risk of repossession
Second charges can come with hefty fees attached
You must bear in mind that, when it comes to selling your property, your main mortgage provider's balance will be redeemed first. Any subsequent secured loans will be redeemed in order by your solicitor. Our advisers can give you more information on how this works
USING CREDIT CARDS TO FUND RENOVATIONS
Credit cards can be another effective way to pay for home improvements. Most credit cards have a limit between £3,000 and £10,000, though you can find options with higher credit limits. This means that a credit card can be a good option for smaller home renovations, but it might not be a feasible choice for larger projects.
One of the main advantages of credit cards for home improvements is that you get additional payment protection from the credit card company. If the work is substandard or doesn't get completed, you might be able to claim the money back from your card provider. Make sure you always check the terms and conditions with your provider before committing to any work.
If you're considering using a credit card in this way, it's essential that you come up with a repayment plan so that you don't risk missing any payments and severely damaging your credit score.
Credit Card Pros
Flexible credit use
Payment protection
Credit Card Cons
High interest rates
Low credit limits
Getting a line of credit will be subject to your credit status
SAVING UP TO PAY FOR HOME IMPROVEMENTS
If you have sufficient money in your savings, you could look at using this to help with home improvements. This might be one of the easier options to look at if you have poor credit, as it can be hard and expensive to find a mortgage for home improvements even if you can find adverse credit lenders.
Using your savings can save you the uncertainty of getting a loan and worrying about paying it off plus any interest.. You should always compare the interest that your savings gain against the interest that a loan would cost you, to work out which is cheaper. For example, if your savings account has a 3% interest rate, and the lowest interest rate you could get on a loan is 4%, it would be cheaper to use your savings rather than take out a loan.
However, there are some downsides to using your savings. If your money is in a fixed term savings account or ISA, then you might face a penalty charge for withdrawing the funds early.
Paying with your savings also lacks the payment protection that you would get from a credit card. This means that even if you want to pay using your savings, it might be better to look at using a line of credit and then paying it off early. For example, you could use a credit card, and pay it off before introductory interest rates end.
Of course, it's also important to make sure that you have enough left in your savings to help in case of a rainy day. It's often advised that you keep at least 3 months' worth of expenses in your savings account.
Savings Pros
Can save you money by avoiding interest on a loan
Convenient if you're struggling to get a loan
Savings Cons
No payment protection
Can leave you without a rainy day fund
GOVERNMENT GRANTS AND INCENTIVES
Though they are limited in scope, there are some government grants and incentives that can help. These typically fall under 2 categories:
Disabled facilities grant - this helps cover the costs of adapting your home or adding features that are necessary to help a resident who is living with a disability. For example, this could help cover the cost of ramps, a stairlift, a downstairs bathroom, suitable heating, or other special adaptations
Home energy efficiency schemes - some schemes can help you with the cost of energy-saving improvements, such as insulation or a new boiler. This usually does not cover the entire cost of these improvements, but it can lower what you have to pay
There are also home improvement agencies that can help you with repairs, security measures or necessary adaptations if you are elderly, disabled, or on a low income. You will typically have to apply for these types of funding well in advance of executing your home improvements, and you might not be successful with your application.
TIPS FOR FINDING THE RIGHT FUNDING OPTION
Finding the right funding will depend on your circumstances. For smaller renovations, you might want to focus on credit cards, personal loans, or savings, while larger home improvements might require more sizable funding.
Of course, each situation is different and warrants a different funding option. If you're unsure whether or not a remortgage is the right funding method for you, you can get in touch to investigate your options. Our experienced brokers can find you a great mortgage for home improvements.
THE BENEFITS OF IMPROVING YOUR HOME
There are many benefits that you're likely to experience from home improvements. Some of the main benefits include the following.
A nicer environment - home improvements can make your home more pleasant and enjoyable to live in. They can also make the house work better for your lifestyle, so you like being in your home more
More space - many people carry out home improvements if they need additional space for a new child, entertaining, a home office, or to accommodate a hobby. You can add another room or open up existing rooms to help your home grow as your family grows
Increased house value - improvements, especially adding an extension or making bathroom and kitchen improvements, can dramatically increase the value of your home. This can make improvements a good choice even if you intend to sell the property at some point, and it can be a valuable option if you got the property as a buy-to-let investment. If you were looking at buying a leasehold property initially, you could also look into buying the freehold to increase value
Reduced utility bills - if you add improvements like insulation and improved heating, it could lower your energy costs. Solar panels can reduce your electricity bills as well