If you're in the market for a new home, you'll likely need to take out a mortgage. And if you have your eyes set on a maisonette, you may be wondering if you can get a mortgage on a maisonette.
Although getting a mortgage for a maisonette is very similar to getting a mortgage for other standard types of properties, there are a few things you should know before you apply. This is because the mortgage will vary depending on the property's size, the buildings it's connected to, and who owns the freehold. In this guide, we'll explain everything you need to know about getting a maisonette mortgage.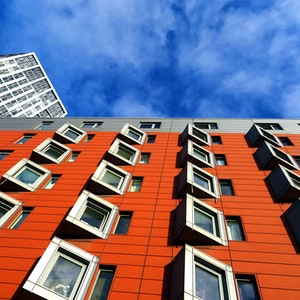 What Is a Maisonette?
Maisonettes have been around for centuries, with the first recorded instance of one in France during the 1600s. The word itself is French for little house, and these types of properties are often found in urban areas where space is limited.
Maisonettes typically have their own front door and can occupy two or more floors. Maisonettes are attached to other properties or buildings on either one side – semi-detached – or both sides. As these types of properties are essentially homes contained within larger buildings, they're considered to be more like flats than actual houses.
Find out more about the different types of houses in the UK and types of house surveys for buyers.
Advantages of Buying a Maisonette
There are several advantages to buying a maisonette rather than a traditional house. Some positives being:
Lower purchase price - because maisonettes tend to be smaller than houses and are often located in urban areas, they're often more affordable. This makes them a good option for first-time buyers. It also means that you'll have a smaller mortgage to pay off, which can save you money in the long run
Low maintenance - maisonettes are usually easy to maintain as they're typically smaller in size than houses. This means less cleaning, painting, and general upkeep. Additionally, any common areas such as gardens and driveways are usually shared with other residents, so you won't have to worry about maintaining them on your own
More privacy than flats - maisonettes typically have their own front door, which means you won't have to share common areas with your neighbours. This can be a big advantage if you value your privacy
Community feel - while you have more privacy than you would in a flat, maisonettes also offer a sense of community that can be lacking in traditional houses. This is because you're usually living in close proximity to your neighbours and may share common areas such as gardens or driveways
Private outdoor space - many maisonettes come with their own private outdoor area, whether it's a balcony, patio, or garden. This is a great perk if you enjoy spending time outside but don't want to maintain a large garden
Disadvantages of Buying a Maisonette
Of course, there are also some disadvantages to consider before buying a maisonette, such as:
Shared spaces - as maisonettes are often attached to other properties, you may have to share common areas such as gardens, driveways, and stairwells. This can be problematic if you have noisy neighbours or if there's a dispute over the shared space
Less privacy than some houses - while maisonettes offer more privacy than flats, there's less privacy than with a detached house and you'll still be living in close proximity to your neighbours. Additionally, some maisonettes don't have their own outdoor space, so you may have to share common areas with other residents
Potential for noise - if your maisonette is attached to another property, you may be susceptible to hearing noise from your neighbours. This can be an issue if you're looking for a peaceful and quiet environment
Lack of space - maisonettes are typically smaller than houses, so you may have to sacrifice the space you'd find in a larger property. This can be an issue if you have a growing family or frequently entertain guests
There are both advantages and disadvantages to buying a maisonette. It's important to weigh up all of your options before making a decision, as there's no right or wrong answer. Ultimately, the best option for you will depend on your individual needs and preferences.
Is a Maisonette a Good Property Investment?
Generally speaking, maisonettes make good property investments. They're usually more affordable than houses while retaining the feel of one, which makes them a good option for first-time buyers or investors with limited budgets. Maisonettes also tend to appreciate in value at a higher rate than flats.
However, there are a few things you should keep in mind before investing in a maisonette. When buying a maisonette as an investment, it's important to consider factors that may put off potential buyers. This can include characteristics like the location of the property and how noisy or desirable the neighbourhood is, whether it needs any repairs or refurbishments, and how much rental income you can realistically expect to generate.
Overall, maisonettes can be a good option for those looking to get on the property ladder or invest in a property with potential for capital growth. Just make sure to do your research, and speak to your mortgage advisor, to ensure it's the right choice for you.
Can You Get a Mortgage on a Maisonette?
Yes, you can get a mortgage on a maisonette, but it's important to understand that not all lenders will finance this type of property. This is because maisonettes can be more difficult to value than traditional houses. When valuing a maisonette, lenders will often take into account the value of the properties it's attached to.
The good news is that maisonettes are eligible for standard mortgages, so you should have no trouble securing financing for your new home. However, it's important to understand that the terms of your mortgage may be different than for a regular house depending on the type of maisonette you're buying.
Freehold vs Leasehold Maisonette Mortgages
The most important factor that will affect your mortgage on a maisonette is whether the property is freehold or leasehold. Freehold means that you own the property outright, while leasehold means that you are renting the property from a landlord for a set period of time. For example, you may have a 99-year lease on a maisonette. We'll explore both types in more detail.
Leasehold
In this section, we'll cover all aspects of leasehold maisonette mortgages – from what a leasehold mortgage means, to what you should ask when getting one.
What Is a Leasehold Maisonette Mortgage?
A leasehold maisonette mortgage is quite common. Leasehold properties make up the majority of housing in London and are widely found throughout the rest of the UK, with the exception of Scotland.
Understanding who will lend is aided by knowing how long the lease will last. Most providers will lend if the property has at least 90 years left on it. If a property's lease ends in 60 years, fewer lenders may provide credit. If they do, it's highly likely that it'll cost you more in interest.
However, leaseholds may be extended, and this is generally a good idea – particularly if you ever intend to sell your maisonette. You may struggle to sell your maisonette if the leasehold only has a short amount of time left on it.
Essential Questions to Ask When Taking Out a Maisonette Mortgage on a Leasehold Basis
The following are some of the most important questions to ask when getting a mortgage on a freehold maisonette.
Term of lease – how long is the leasehold? Can it be renewed and if so, at what cost?
Service fees – what are the monthly service fees and how often do they increase?
Insurance – is the building insurance included in the service charges or will you need to take out your own policy?
Ground rent – how much is the ground rent and when does it need to be paid?
Repairs – who is responsible for repairing the property and common areas?
Asking these questions will give you a good understanding of what to expect when taking out a leasehold mortgage on a maisonette. It's important to be as informed as possible to make sure there are no surprises down the line.
Freehold
In this section, we'll cover all aspects of freehold maisonette mortgages, from the different types to what you should look into when getting one.
What is a Freehold Maisonette Mortgage?
If you buy a freehold maisonette, you own the property and the land it's built on outright. Freehold mortgages are attractive for this reason as they offer more security than leasehold mortgages. You won't have to worry about paying ground rent, service charges, or any other fees imposed by a freeholder.
However, keep in mind that you'll need to budget for expenditures such as repairs, maintenance, and insurance. These will be taken into consideration during your mortgage application process.
Share of Freehold Maisonettes
In densely populated cities such as London, Birmingham, or Manchester, you'll find that many maisonettes were once a single large home. As a result, "share of freehold" arrangements is common on maisonettes. This is an arrangement where the home is still a leasehold property, but when you acquire it, you also acquire a share in the freehold. Not all lenders will finance this, therefore it's critical to find out as soon as possible. You may also have the option to buy the freehold in some instances.
Because all shared freeholders are held responsible for the building's upkeep, many purchasers find it inconvenient. With this type of arrangement, you need to be on good terms with your neighbours and be able to resolve issues with them regarding maintenance and upkeep.
Essential Things to Look into When Taking Out a Maisonette Mortgage on a Freehold Basis
As you'll own the building and land outright, there are different things you'll need to take into consideration when taking out a freehold mortgage on a maisonette, including the following key points:
Repairs and maintenance – how much will this cost and how often will they be carried out?
Insurance – how much will it cost to insure the property and what type of insurance policy will it need?
Building regulations – are there any restrictions on making alterations to the property?
Upkeep of common areas – if there are any, who is responsible for their upkeep and how much will it cost?
What Other Factors Can Impact Mortgages for Maisonettes?
There are a number of factors that can affect mortgages for maisonettes. These include the size of the deposit, the type of property, the age of the property and the location.
Deposit size is often one of the biggest considerations when taking out a mortgage. The larger the deposit, the lower the monthly repayments will be. The mortgage lender may also be able to offer a lower interest rate.
The type of property can also have an impact on mortgages for maisonettes. Maisonettes are usually more expensive than flats, so the mortgage repayments will be higher.
The age of the property can also affect the mortgage. Older maisonettes may not be eligible for certain types of mortgages, such as interest-only mortgages.
The location of the property can also affect the mortgage. Maisonettes in London will usually be more expensive than those in other parts of the country. This is related to the high demand for maisonettes in the capital.
Why Should You Speak to an Independent Mortgage Broker When You're Looking to Buy a Maisonette?
When you're looking to purchase a maisonette, it's key to seek professional mortgage advice. This is where an independent mortgage broker can help.
If you're looking to purchase a maisonette, be sure to speak to an independent expert from John Charcol to increase your chances of getting a mortgage and the most competitive deal possible. At John Charcol, we have over 45 years of experience in the mortgage industry, and our team of experts are on hand to offer you tailored advice.
We've helped thousands of people to buy their dream homes, including maisonettes, bungalows and non-standard construction builds. Our expertise and strong relationships with lenders mean that we can get you an excellent mortgage deal, no matter your circumstances, and what type of property you're hoping to buy.
Get in touch today to see how we can help you. A simple phone call on 0330 433 2927 could make all the difference.