When purchasing a property, the first step is understanding what is required when it comes to putting down a deposit for a house and how much you need for a mortgage deposit. Securing a deposit for a mortgage is one of the main struggles most buyers face. It doesn't matter whether you're a previous homeowner, first-time buyer or buy-to-let landlord – if you're buying a new property with a new mortgage, you'll probably need to put down a deposit.

In this article, we'll help explain house deposits in the UK and help you figure out how much you need for a mortgage deposit. You'll find information on deposit amounts, the average deposit for a house in the UK, how your deposit affects your mortgage, buy-to-let mortgage deposits and how to save up. You can also work out how much you'll need to save each month to reach your deposit amount with our calculator, how your deposit impacts the rates available to you and how you pay it.
What Is a House Mortgage Deposit?
To buy a house or flat, you'll need a house mortgage deposit. This is an amount you pay that is a percentage of the property price. For example, if the house you're looking to buy is £300,000, you may need a deposit of 10% which would be £30,000. Your mortgage would make up the remaining £270,000.
The minimum amount of deposit required for a home purchase is typically 5% - 10%, but you may require more depending on how much you can borrow on your mortgage and the purchase price of the property you're considering.
How Does a Mortgage Deposit Work?
In simple terms, a mortgage deposit is the required amount of money to pay upfront when you purchase a property and take out a mortgage. You pay your deposit at exchange which is when your solicitor and the seller's solicitor exchange contracts.
The bigger the deposit, the less you have to borrow and the more equity you'll have in the property upfront. A bigger deposit can give you access to better mortgage deals and lower rates. You can learn more about deposit amounts further on in the article.
How Much Deposit Will You Need?
The next important question is: how much deposit do I need? The amount you'll have to pay in deposit depends on the value you're borrowing and the mortgage product you've selected. Find out more about how much mortgage deposit you will need and how to save for a mortgage deposit.
Your deposit is normally worked out as a percentage of the value of the property you want to purchase. Although there are a few 100% mortgage type products on the market now, the maximum mortgage you can typically take out is 95%, which means you have to provide at least a 5% mortgage deposit. However, a lot of lenders will ask for a deposit of 10% or more. There are options to reduce the deposit you need – you can find more information on this below.
It's worth trying to contribute as much in deposit as you can. A large deposit makes you appear less risky to lenders. This not only increases your chances of being accepted for a mortgage, but it also gives you access to better rates. Furthermore, you borrow less, which means your monthly repayments will be lower and you'll accrue less interest.
To work out how much you will need to save each month to reach your deposit amount, try our calculator below. This calculator assumes that you are a basic rate taxpayer and your payments are made at the beginning of each month.
This calculator is for illustrative purposes and you should check the progress of your savings and review it regularly to ensure you are on track to reach your amount by the target date.
House Mortgage Deposit Calculator
To work out how much you will need to save each month to reach your deposit amount, try our calculator below. This calculator assumes that you are a basic rate taxpayer and your payments are made at the beginning of each month.
This calculator is for illustrative purposes and you should check the progress of your savings and review it regularly to ensure you are on track to reach your amount by the target date.
What's the Average House Deposit?
The average deposit for a house in the UK required by lenders varies depending on where you buy your property, as a higher property value increases how much deposit is required on a house. Deposits for houses in London, South East England and South West England will be higher than those in Northern England and the Midlands.
Average Deposit for First-Time Buyers
According to Money.co.uk: "The average first-time buyer deposit in the UK is £61,000, which is around 26% of the average first-time buyer house price (£236,783)". Bear in mind that house prices and therefore deposits vary greatly depending on location.
Deposits required in London and the South East tend to be a lot bigger than other areas in the UK. The North, Scotland, Northern Ireland and Wales are often cheaper than their Southern counterparts, making them much more affordable areas for those struggling to save a deposit.
It can still take years to save this kind of money though and it's near enough impossible for some people. Thankfully, there are some options available that can reduce how much deposit you need.
Reduce How Much Deposit You Need for a Mortgage
Some lenders will offer you up to 100% mortgage - but this will come with certain caveats such as your parents needing to put up their own savings or property as security in addition to the property you're buying, or your maximum borrowing being capped at a lower value.
Your parents can also give you your deposit as a gift or loan. But beware: if they lend you your deposit rather than gift it and you have to pay it back, it could affect your mortgage affordability.
The Government offers multiple schemes such as contributing to your deposit through a LISA, Right to Buy and Shared Ownership. These schemes aim to help first-time buyers with deposits and/or previous owners struggling to save enough for a deposit on a house or flat.
Deposit Needed for a Buy-to-Let Mortgage
Buy-to-let properties are slightly riskier investments for lenders, which is why their rates are higher and they often require a larger minimum deposit - usually at least 25% - 40% of the property value.
Example
You want to purchase a property for: £300,000
You take out a 75% buy-to-let mortgage for: £300,000
The buy-to-let mortgage deposit required is: 25%
You pay 25% of £300,000 in deposit = £75,000
The lender lends you: £225,000
You purchase the property for: £300,000
When Do You Pay Your Deposit?
You normally pay your deposit to your solicitor 1 or 2 days before the exchange of contracts. The solicitor will hold on to that deposit until completion, at which point the mortgage money comes through and is added to the deposit money to make up the full sale price of the property. The solicitor will then pass this all to the vendor's solicitor to complete the sale. There's usually a gap between the exchange of contracts and completion of a week or 2. This is sometimes longer, e.g. when buying a new build property. If your whole deposit is coming from the sale of your previous property, then your solicitor will usually make alternative arrangements.
What's a Holding Deposit?
You may be required to pay a holding deposit - also known as a reservation deposit - on your new home. This is different from your mortgage deposit. A holding deposit shows the buyer you're serious about purchasing their property and prevents them from selling their property to someone else. It's typically between £500 - £1,000, but it's ultimately up to the seller and their solicitor to set the amount. They decide on an appropriate level which is affordable but enough to discourage either party from withdrawing from the transaction.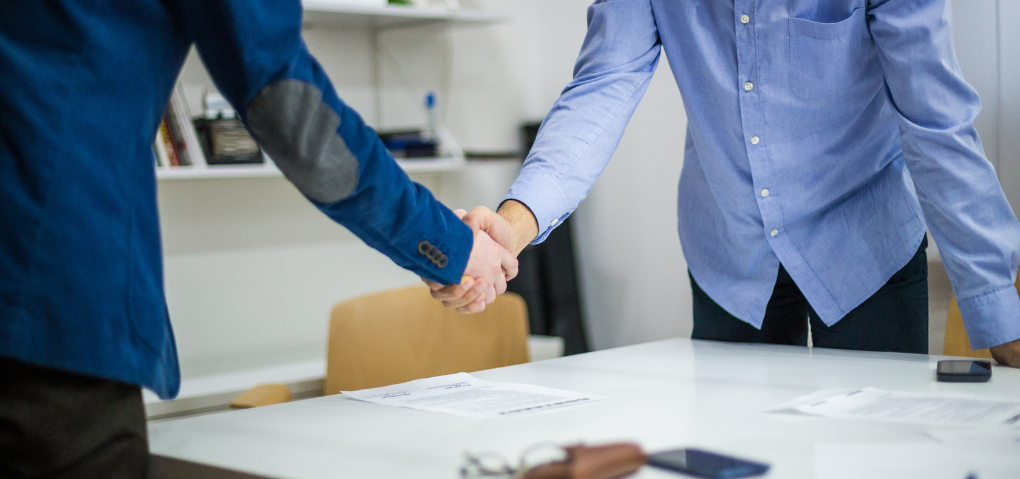 How to Save for a House Deposit
In the UK, we have a few different options that make saving for a mortgage a little easier.
Some ways to save for your first home include:
Returning to Your Parents' Home to Reduce Costs
Moving back in with Mum and Dad is rarely anyone's first choice, but it can be an effective way to save up for a house. Any rent you pay will likely be cheaper than what you were paying on your own place. Just remember that you won't be living there forever!
Ask the Bank of Mum and Dad
Most first-time buyers need a little financial support from their parents and a lot of lenders are unfazed by parental donations – but not all of them. Some lenders are less inclined to accept gifts from the Bank of Mum and Dad. This is because they need to be sure the gift is, in fact, a gift. Not all parents can – or want to – make a true gift, so they may loan you the deposit. Be certain what it means when your parents give you money towards your new home as it may affect the mortgages available to you. For, if you're gifted a loan, you'll have to pay it back at some point, which could impact your ability to meet mortgage repayments later on.
Nonetheless, loans can still be extremely useful to the first-time buyer. There are a few lenders who offer products where the gifted loan amount has to be deposited into a savings account for a few years - until the property increases in value sufficiently for the money to be released back to the donor. Barclays and Lloyds are 2 of the biggest names who offer this kind of product, nonetheless it's smart to speak to a broker as they can find you the best deals.
Open a LISA
Opening a LISA (Lifetime Individual Savings Account) is a great way to top up any deposit you save. They're offered by banks and building societies. Essentially, you can pay in up to £4,000 annually until you're 50 years old and the Government will add a 25% bonus per year, at a maximum of £1,000. You must make the first payment into the account before you're 40.
LISAs can only be used by first-time buyers to purchase a property and the value can be no more than £450,000.
How to Provide Proof of Your Deposit
The best way to provide evidence of your deposit is by providing your latest bank statement which shows that the deposit money is in your account. Some lenders may request your bank statement from the last 6 months as evidence of how you have built up the deposit money.
Deposit Requirements for Buying Another Property
If you decide you want to purchase a second property, then the required percentage increases to 20% or more, as most banks cap the LTV at 80%. It's not impossible to get a higher LTV and put up a smaller deposit, but this will limit the deals available.
Buy-to-Let Deposit Requirements
Usually with a buy-to-let mortgage, the deposit required is a minimum of 25% of the property value. However, deposits required for a buy-to-let property vary and there are many different deals available. Get in touch with one of our advisers to learn more.
COMPARE MORTGAGE RATES AND DEALS
Use our mortgage comparison tool to compare all kinds of mortgage deals and rates.
For more information and to get started on your mortgage journey call us on 0330 433 2927.