Saving up for a mortgage deposit is often one of the biggest challenges facing property buyers. It can be one of the main obstacles to getting a mortgage, especially for those hoping to buy their first home.
If you're struggling to save for a deposit, you may be wondering if a 5% deposit mortgage (95% Loan to Value mortgage) is the solution. In 2021, a 5% deposit mortgages government scheme was launched to help first-time buyers and existing homeowners get a mortgage with a 5% deposit. But what does a 5% deposit mortgage mean - and should you get one? Read on to find out everything you need to know about 5% mortgages, including what they are and how you can access them.
Can I Get a Mortgage with a 5% Deposit in the UK?
If you're wondering if you can get a 5% deposit mortgage in the UK for first-time buyers, the short answer is yes, it is possible – there just aren't many lenders offering 5% deposit mortgages at the moment. While most lenders typically ask for a minimum of 10% mortgage deposit, not everyone looking to buy a home can afford that.
A 5% deposit mortgage is a type of secured loan where you only pay 5% of the total value of the property. The mortgage loan covers the remaining 95% of the property's value; it has an LTV (loan-to-value) of 95%. For example, if you were hoping to buy a home for £200,000, a 95% LTV mortgage would cover £190,000 of the cost, so you'd be required to put down a 5% deposit, equivalent to £10,000.
These 5% mortgages are ideal for first-time buyers who may struggle to save up a larger deposit. However, these types of mortgages tend to come with higher rates and you'll be limited in your choice of lenders and mortgage products.
You can't get a 90% or 95% LTV mortgage for a buy-to-let property. Read our Buy to Let mortgage deposit guide.
What Is the Mortgage Guarantee 5% Deposit Scheme?
Since the start of the COVID-19 pandemic, 5% deposit mortgages have been quite difficult to find. The UK Government launched the mortgage guarantee scheme to encourage lenders to offer mortgages for first-time buyers with smaller deposits to help them get on the property ladder. The government-backed scheme helps homebuyers in the UK obtain mortgages of up to £600,000 with a 5% deposit.
The mortgages are repayment mortgages and with an initial fixed 5 year rate. It's not essential that you're a buying your first home or a new build home to qualify for the scheme, but lenders will use their standard criteria to determine whether you can afford the repayments. Our mortgage repayment calculator will help you estimate how much your mortgage repayments might be and determine whether you can afford them.
It's hoped that with the Government compensating lenders for a portion of any loss should a property be repossessed, lenders will be more inclined to offer borrowers high LTV mortgages. The Government guarantee is valid for 7 years after a mortgage is taken out. The scheme will continue until December 2022 and is available through several lenders - including Virgin Money, NatWest, HSBC, Santander, Lloyds, and Barclays.
How to Choose the Right 5% Deposit Mortgage
Whether you qualify for one of the 5% deposit mortgages under the government scheme or elsewhere, there are a few things you need to consider when deciding which product to go with.
Fixed-Rate or Tracker Mortgage
With a fixed-rate mortgage, the interest rate remains the same for a set period, making it easier to budget. A tracker mortgage works differently as your interest rate can go up or down depending on the Bank of England base rate. You'll benefit when the rate drops, but you'll have to pay more when it rises.
Repayment Mortgage
With repayment mortgages, your monthly payment comprises a mortgage repayment and an interest payment. This means you pay back part of the loan each month with interest.
Interest-Only Mortgage
You get a cheaper monthly payment with interest-only mortgages as you only pay the lender interest each month. However, you still owe the large lump sum you borrowed, so you need a repayment vehicle plan for when the mortgage ends – e.g. selling the property, remortgaging, etc.
Help to Buy
Help to Buy and shared ownership are government schemes to help first-time buyers get on the property ladder. These schemes allow you to buy a share of the property – 25% to 75% – and pay rent on the rest. You can buy more chunks of the property later down the line as well, increasing the portion you own and reducing the portion you pay rent on.
How Much Can I Borrow with a 5% Deposit Mortgage?
How much you can borrow will depend on your situation. Mortgage lenders can offer up to 4.5x your annual salary or a little less if the mortgage is based on 2 salaries. For example, if you wanted to buy a home worth £250,000 and have a £12,500 deposit – equivalent to 5% – you'd ideally need to be on a salary of around £52,000 a year to qualify for a 5% deposit mortgage.
Am I Eligible for a 5% Deposit Mortgage?
There are several factors mortgage lenders will want to look at when deciding whether to offer you a 5% deposit mortgage. We go through these below.
Credit History
Lenders will want to see that you have a good credit history before accepting your mortgage application. They'll want to see that you've been responsible for managing debt and meeting your repayments. If you have some missed payments or bad credit in your history, it's a good idea to spend at least 6 months improving it before you apply for a mortgage. Even paying a credit card bill late can show up on your credit history and affect your credit score.
Affordability
The lender will also want to make sure you can afford the mortgage payments on a 95% mortgage and over what term you'll be able to pay it back. They'll want to see details of your income and outgoings, including how much you spend on living costs, bills and any debts you have.
What Are the Benefits of a 5% Deposit Mortgage?
The obvious and main benefit of a 5% deposit mortgage is that you'll only need to put down a 5% deposit, which means:
You can get on the property ladder much sooner and don't have to wait to save up for a larger deposit
You can start off buying a small property and then move to something bigger later on
You can start building up equity in your home, so when your current mortgage deal ends, you can switch to a better deal
What Are the Drawbacks of a 5% Mortgage?
While a 5% deposit mortgage has several benefits, it may also have a few disadvantages.
Interest Rates
You're unlikely to access the best mortgage deals available with a 5% deposit mortgage. Typically, the bigger the mortgage deposit, the better the interest rate. The best mortgages are generally offered to buyers who can put down a 35% to 40% deposit, but even a deposit of between 10% and 20% will give you a reasonable choice of deals and better rates.
Negative Equity
With a 95% mortgage, there's always the risk that the value of your home may fall below the value of your mortgage. For instance, perhaps you bought your home for £200,000, and its value drops by 6% to £188,000. That decrease would be more than your 5% deposit. This means you would be in negative equity, owing more than what your home is worth.
Higher Lending Charge (HLC)
HLC is a fee some lenders charge for mortgages with a very high LTV – typically more than 80% of what the property is worth. The lender may calculate the charge as a percentage of the amount that's over their limit. For example, with a 5% deposit mortgage on a home worth £100,000, you may have to pay a 5% HLC on £20,000.
Should I Save for a Bigger Deposit?
Ideally, if you can put down a bigger deposit than 5%, you'll be able to access a wider choice of lenders and access cheaper mortgage deals. A 5% deposit mortgage does have several disadvantages, so it shouldn't be considered lightly.
To work out how much you need to save each month to reach your deposit amount, try our mortgage deposit calculator.
What's the Maximum LTV Available on a 5% Deposit Mortgage?
LTV is the percentage of the property's value covered by the mortgage. Right now, the maximum LTV available is 95%. This means that the lender lends you money to cover 95% of the purchase price and you contribute 5% in deposit. It also means you start off with 5% equity in your property – in simple terms, you "own it outright". With a repayment mortgage, you increase your equity each month by paying back a some of the amount you borrowed.
The higher the LTV, the more you have to pay back and the more you pay in interest. This makes the risk bigger for lenders as they have to rely on you to pay them back. If you can't keep up with your mortgage repayments, the lender has the option of repossessing the property to recover its losses.
The best mortgage deals are offered to buyers with a lower LTV, often around 70%.
Are 5% Deposit Mortgages Available on New Build Properties?
Assuming you meet the mortgage lender's criteria, you might be able to get a 5% deposit mortgage on a new build home. However, the lender will want to see that you can afford the monthly payments, especially if interest rates rise.
As an alternative to a 5% deposit mortgage, you might qualify for the Help to Buy: Equity Loan scheme. This is where the Government lends buyers up to 20% of the cost of a new build home in England. If you only have a 5% cash deposit, with the addition of a 20% loan you could potentially borrow the remaining 75% from a mortgage lender.
If you're in London, a 5% deposit will allow you to get a government loan of up to 40% of the purchase price of a new build home. You could then borrow the outstanding 55% from a mortgage provider. However, it's worth considering that mortgage lenders participating in the Government's mortgage guarantee scheme won't offer 5% deposit mortgages on new build homes.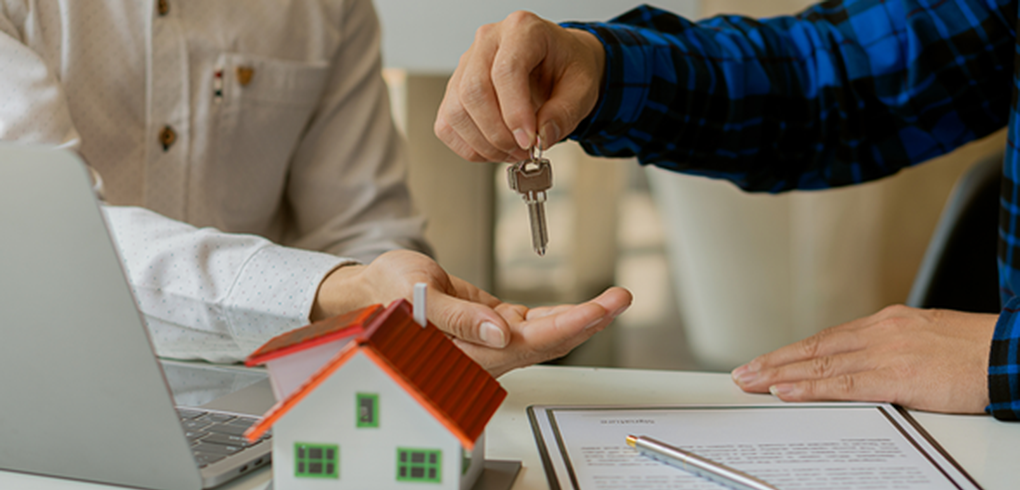 Can I Remortgage with a 5% Deposit Mortgage?
You can remortgage onto a new deal after buying a your first home with a 95% mortgage once your mortgage deal period ends. By waiting until your deal ends, you'll avoid ERCs (early repayment charges and you'll have built up more equity in your home to be able to remortgage onto a lower LTV mortgage with a better rate. You can start arranging your new deal up to 6 months before your deal ends so it's all in place and you can avoid going onto your lender's more expensive SVR (standard variable rate).
If you want to remortgage sooner, you'll typically have to wait until at least 6 months after your name is added to the title deeds. It's possible to remortgage before then, but your choice of lenders and products will be limited so you should definitely speak to a mortgage broker.
How Do I Apply for a 5% Deposit Mortgage?
You can apply for a 5% deposit mortgage through a mortgage broker like John Charcol or directly with the lender. You'll be required to go through the same credit and affordability checks as with any new mortgage.
If you're looking to get a 95% LTV mortgage under the government's Mortgage Guarantee Scheme, you'll need to submit your mortgage application before 31 December 2022. With this scheme, you can apply for a 5% deposit mortgage if the property you want to buy is not a new build and is not worth more than £600,000. The property must also be your only home. It cannot be a buy-to-let or a second home. You'll also be required to take out a repayment mortgage and not apply to borrow more on your mortgage for at least the next 7 years.
Contact us on 0330 433 2927 to find out more.
What Are the Alternatives to a 5% Deposit Mortgage?
There are several alternatives to 5% deposit mortgages, especially if you're a first-time buyer.
Shared Ownership
If your household earns a combined income of less than £80,000 a year – or £90,000 in London – you may qualify for shared ownership. This will allow you to buy a share of a home, with the Government owning the rest.
Depending on what the mortgage lender considers affordable for you, you could purchase a share of the property of between 25% and 75%. You'll only need a mortgage for the share of the property you buy. You'll then pay rent on the remaining share. You can then buy more chunks of the property later on to increase the percentage of the property you own. Alternatively, if you're aged 55 or over, you might be eligible for Older People's Shared Ownership. Or, if you have a disability, Home Ownership for People with Long-Term Disabilities (HOLD) might be a good option.
100% Mortgage
A 100% mortgage, also referred to as a "family deposit mortgage", allows you to take out a mortgage for up to 100% of the property price. Instead of providing a deposit, a family member opens a savings account held by the lender that's linked to the mortgage. The money in the savings account is used as security against the mortgage and cannot be withdrawn until a certain amount of the mortgage has been paid back. These mortgage products are called different things by different lenders, such as: Family Springboard or Family Assist.
Gifted Deposit
A gifted deposit is a way that parents can help their children get on the property ladder. It's a sum of money gifted to the property buyer that can be used as a deposit on a mortgage. The mortgage lender will want to see evidence of where the gift deposit money came from and that the money is a gift, not a loan that must be paid back.
There are also options that can help you borrow more if you're on a low income that's limiting how much you can borrow, such as a guarantor mortgage and its replacement joint borrower sole proprietor.