If you're looking to buy a home, you may be wondering how large a mortgage deposit you'll need. For many people, saving up enough money for a mortgage deposit is the most challenging part of buying a property.
That's why it's helpful to know how big a deposit you'll need to save for, especially when you're hoping to buy your first home. A mortgage will probably be one of the biggest financial decisions you make in your lifetime, so it's worth taking the time to consider which LTV (loan-to-value) would work best for you. Here you'll find all the information you need to help you understand the different mortgage deposit amounts and what size deposit you'll need.
Does Mortgage Amount Include Deposit?
Your mortgage amount doesn't include the deposit. A mortgage deposit is the lump sum you pay towards your home. It's the money you put into buying a property, while a mortgage is a loan for the outstanding amount. A good deposit for a mortgage is usually about 20%.
What Size Deposit Do I Need to Get a Mortgage?
The size of the deposit you need for a mortgage depends on the price of the property you want to buy and the amount you can borrow on your mortgage. The easiest way to understand this is by using something called LTV or loan-to-value. The LTV is basically the ratio between the loan amount and the value of the property.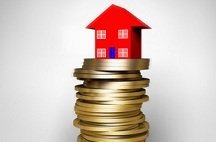 Let us explain:
Together, the deposit and the mortgage make up 100% of the property's purchase price
So, if you have a deposit worth 10% of the property's purchase price, you'd need a mortgage worth 90% of the property's purchase price
In this case, the LTV or loan-to-value is 90%
There are mortgages available at up to 95% LTV which means the minimum deposit you need is 5%, although you'll have access to more deals and better rates if you can provide a deposit of 10% or more.
You can see how deposits and LTV work in the example below for a house worth £200,000:
At 95% LTV, you'd need a 5% deposit worth £10,000
At 90% LTV, you'd need a 10% deposit worth £20,000
At 85% LTV, you'd need a 15% deposit worth £30,000
You can use our LTV mortgage calculator with deposit and loan amount to work out the LTV on a mortgage. This will help you determine the deposit you need based on the property value and loan, or the mortgage you need based on the property value and your deposit..
Keep in mind that lenders will also look at other factors when assessing your mortgage application, including your income, credit history and committed outgoings, to determine what you can afford.
How Much Deposit Do I Need to Get a Good Mortgage Deal?
A 20% deposit is often considered a solid deposit amount for accessing mortgage deals with the best interest rates. The larger percentage of the property price you can put down as a mortgage deposit, the lower the interest and loan you'll need to repay. You can use our How Much Can I Borrow? calculator to work out the maximum amount you could potentially borrow based on your income.
What Deposit Do I Need as a First-Time Buyer?
A 10% deposit or higher will help you access better rates. However, if you're a first-time buyer, 5% mortgage options are available through government schemes and certain mortgage products, including the following.
Traditional 95% Mortgage
There are a few mortgage products on the market at 95% LTV. Speak to your mortgage broker about the products available and if you're a suitable candidate for the lenders offering them.
Help to Buy Equity Loan Scheme
The Help to Buy Equity Loan scheme runs until March 2023 and there are different versions available across England, Greater London, Scotland, and Wales. It's designed to help first-time buyers get on the property ladder by buying a new build home with a 5% deposit. In England and Greater London, first-time buyers can receive a government loan of up to 20% of the property's purchase price. This increases to 40% in London. The equity loan is interest-free for the first 5 years and you won't need to make repayments during this period. To apply for the scheme you must reserve the property you want by the end of October 2022.
Shared Ownership
With Shared Ownership, you are buying a portion of the property and paying rent on the rest. You can choose to increase the amount of the property you own later on. You only need to take out a mortgage on the share you're buying. Therefore, you can put down a much smaller deposit. Your share of the property will be 25% to 75% of the property's value, depending on what your lender determines you can afford.
Talk to Our Experts Today
Can I Get a Mortgage with a £3,000 – £5,000 Deposit?
With the maximum LTV for a residential property being 95%, a £3,000 deposit may be enough to let you buy a property worth up to £60,000. Meanwhile, a mortgage deposit of £5,000 could help you to buy a property worth around £100,000. However, it's important to keep in mind that each lender has their own criteria and therefore may reject a mortgage deposit of less than 10%, as it means more risk.
How Much of a Mortgage Can I Get with a £10,000 – £20,000 Deposit?
A £10,000 deposit could get you a mortgage on property worth up to £200,000. With a £20,000 deposit, you have options for properties worth up to £400,000.
What Mortgage Can I Get with a £50,000 - £100,000 Deposit?
A £50,000 - £100,000 deposit is where you'll really start to get offered mortgages with extremely attractive rates, depending on the price of the property you want to purchase. Assuming the property you're looking at is roughly £200,000 or less, you'll have a relatively low LTV which means you'll also be reducing the amount you'll need to borrow. A lower mortgage amount means lower interest payments and less paid in interest overall.
For example, if you plan to buy a home worth £250,000, a £50,000 deposit is equivalent to 20%. However, with a down payment of £100,000 – which is equivalent to a deposit of 40%, you'll be in an excellent position to secure a cheaper mortgage.
A bigger deposit can also allow you to buy a more expensive property but the rates you'll face at a higher LTV – e.g. 85%+ - will be more expensive.
What Are the Benefits of Saving a Bigger Mortgage Deposit?
While some lenders will allow you to put down a 5% deposit, there are many reasons to save more if possible.
Reduced Total Cost of Borrowing
The bigger your deposit and the smaller your LTV, the less you'll pay overall in interest.
Better Mortgage Deals
Mortgage lenders will consider you a less risky borrowing proposition if you have a larger deposit. As a result, they'll typically offer you lower interest rates. For example, you could pay up to 1% less on a 90% mortgage than on a 95% mortgage.
Better Chance of Being Accepted
All mortgage lenders carry out affordability checks to help them determine whether a person can afford the mortgage repayments. The larger your deposit, the more likely it is you'll pass these checks.
Bigger Budget
Most lenders provide mortgage loans of up to 4½ times your annual income. If your salary isn't particularly high, you may not be able to borrow enough and may need a larger deposit to pay for the property.
Less Risky
When you start off with more equity in your property, you'll be less likely to experience negative equity, which is where you owe more on your mortgage than what your home is worth. Negative equity can make switching mortgages or moving house very difficult.
Can I Get a Mortgage with No Deposit?
The only type of 100% LTV mortgage you can currently get is a family deposit mortgage – also known as a Family Springboard Mortgage or Family Assist mortgage, among other names depending which lender you use. Typically with family deposit mortgages one or more family members puts money into an interest-earning savings account that's linked to your mortgage or they have a charge put on their property on which they don't make any monthly payments. Their savings or equity effectively act as the mortgage security. Mortgages like Family Springboard allow you to take out a mortgage of up to 100% of the property's purchase price. Your relatives will get their money paid back to them, or have the charge removed from their property, once you've repaid a certain amount of the mortgage.
How Much Deposit Will I Need After Bankruptcy?
If you've previously been made bankrupt, the length of time since you've been discharged from your bankruptcy will influence the bankruptcy mortgage deposit amount you will need. For example, if it's been less than a year since you were discharged from bankruptcy, you'll need a deposit of around 40%. If it's been more than 1 year, you'll need 25% – 30%, and if it's been over 3 years, you'll need to provide a minimum of 5% deposit, subject to also having good credit since your discharge.
Will I Get My Mortgage Deposit Back?
With a mortgage deposit, you're paying for a portion of the property upfront. You won't get your mortgage deposit back until you sell the property, assuming that you've maintained or increased your equity in it. If you sell your home to buy another, you can use the proceeds as a deposit for your next property.
What Buy-to-Let Mortgage Deposit Amount Do I Need?
If you need a buy-to-let mortgage, the buy-to-let mortgage deposit amount you need is considerably more than for a residential property mortgage. Lenders will generally require a 25% buy-to-let mortgage deposit, although it could be as much as 40% of the property's value, depending on the type of property and mortgage lender. Similarly, commercial mortgage deposit amounts for businesses are typically between 25% and 40% of the property's value.