Even if you've been a homeowner for some time, the process of buying and selling your property is always daunting. Maybe you waded through the process so long ago that you've forgotten how it works. Or, maybe you've never moved before and this is all new to you.
Whether you're a seasoned pro or this is the first time you're selling a property, our moving house guide will take you through the journey. We'll tell you how your mortgage could be affected, highlight all the key things to do when moving, run through the costs of moving and outline a few, practical moving house tips.
Part 1: Selling Your Home and Getting a New Mortgage
The first part of our moving house guide shares essential steps on moving home and getting a new mortgage, porting your mortgage, moving tips, questions to ask the sellers and the cost of moving home.
Steps On Moving Home And Getting A New Mortgage
There are a number of options available to you should you need an entirely new mortgage when moving home. It's important that you check whether you have any ERCs (early repayment charges) if you're still in your introductory rate period and want to switch to a new lender. If you do, don't worry – you can start to arrange a new mortgage with a new lender when you've got 6 months or less left on your current deal.
You Could Change Lenders
If you can't port with your current lender, or they don't have an alternative deal that's suitable, then you can look elsewhere. Lenders have different criteria so you may be able to find a more favourable deal when it's time for a new mortgage.
You Could Switch to a Different Type of Mortgage Product
It's sometimes worth sticking with the same type of mortgage if that's what works best for you. However, personal circumstances change. You may find that a different type of rate or term now suits you better. A mortgage adviser will listen to your situation, explain your options and help you come to a decision you're confident in.
You Could Choose a Different Interest Rate
You don't have to stick with the same interest rate product when you take out a new mortgage, only if you port your existing one. You can choose from any available products that the lender has to offer for any new borrowing. These could be fixed, variable, tracker, discount, etc. Your mortgage broker will help you choose one that best suits you and your personal situation.
Find out more about the different types of mortgages in our Mortgage Types Explained guide.
How to Port Your Mortgage When Moving House
Many mortgages are "portable", which means you can transfer your current mortgage product to a new property. You'll need to check with your lender or broker about whether your mortgage is portable and learn more about the T&Cs that your lender will apply.
If you're thinking about porting your mortgage, remember that sometimes your lender won't allow you to port your mortgage to a new property, even if it's possible. This could be for several reasons. For example, the lender might find the type of property you want to buy unacceptable.
When you ask your lender to "port" your mortgage, you effectively have to reapply to borrow. Bear in mind that you may no longer qualify. Your circumstances could be different: you may have a new profession, your outgoings could have increased, or you may have had recent credit problems.
Equally, nothing may have changed for you financially, but your lender may have changed their criteria. In recent years lenders have had to carry out more stringent tests and checks on applications as a result of the 2008 "credit crunch".
Even if you took out your first mortgage without any hassle, you could still face restrictions the second time around.
You Might Not Be Able to Borrow More Money
If the lender has tightened their affordability rules then you might not be able to borrow the amount you need. You may need to consider using another lender instead.
You Could End Up Borrowing at a Poor Rate of Interest
If you can port and are able to borrow more money, don't forget that you're tied to a lender already so you'll have little choice other than to choose the rate your lender offers you. This may not be particularly competitive and could be far from the cheapest available, leaving you stuck paying a higher rate of interest on the extra borrowing.
Tips for Moving House and Searching for a New Home
It's always worth consulting at least one estate agent when you're looking to buy a property. They should be experts on the housing market in their areas who can keep you updated about any suitable properties and help you liaise with sellers when you start making offers.
It's important to point out that you don't have to use your estate agent's mortgage broker – even if they tell you otherwise. It's your choice which mortgage broker you use.
Now, regarding the kind of property you want – the more specific you can be with your estate agents, the better. Don't be afraid to tell them exactly what you want and ask lots of questions about the properties they present to you. You should never feel like you're settling – you're choosing somewhere to live after all. It's the place you'll wake up every day and go to bed every evening.
So, beyond the number of bedrooms and price range, here are a few other things to ask your estate agents about:
The Area
Are the public transport links good – including links to shops, schools, and social facilities?
Are there any upcoming property developments in the area?
Are the local schools good?
Inside the House
What's the average cost of utility bills?
Does the house have full central heating and how old is the system?
Is the property insulated – is the loft insulated/is there cavity wall insulation?
Outside the House
Does the house have a burglar alarm fitted?
Do the doors and windows have sturdy locks?
Does the roof sag and are there any cracks in the walls? These can be signs of subsidence.
Second Viewings
First impressions are very important. You're likely to have made 80% of your decision on whether to buy on the very first visit. But don't be too hasty – it's not 100%. Even minor factors such as the weather affect the way a property can come across on a particular day.
Go for a second viewing. You don't need to pressure yourself more than necessary when moving home. If you're unsure, go back and have a second look.
It's worth going back even after you've had an offer accepted on a home and you've received a surveyor's report, as a second viewing is a great opportunity to assess the extent of any problems.
Questions to Ask the Sellers
By the time you've viewed a new property, you'll have already asked the estate agent several questions that'll inform your decision. But it's also worth speaking with the sellers if that's possible and asking them questions. After all, they know the property better than anyone else, especially if they've lived there for some time.
Some questions to consider asking the sellers include:
Why are you selling your home?
Has any work recently been done on the property?
Since you moved in, how much work has been done on the property?
What are the neighbours like?
Have you ever had any problems in the neighbourhood?
The answers to these questions will help you gauge whether the property is right for you and how much you'll need to budget when moving in, so don't be afraid to ask them.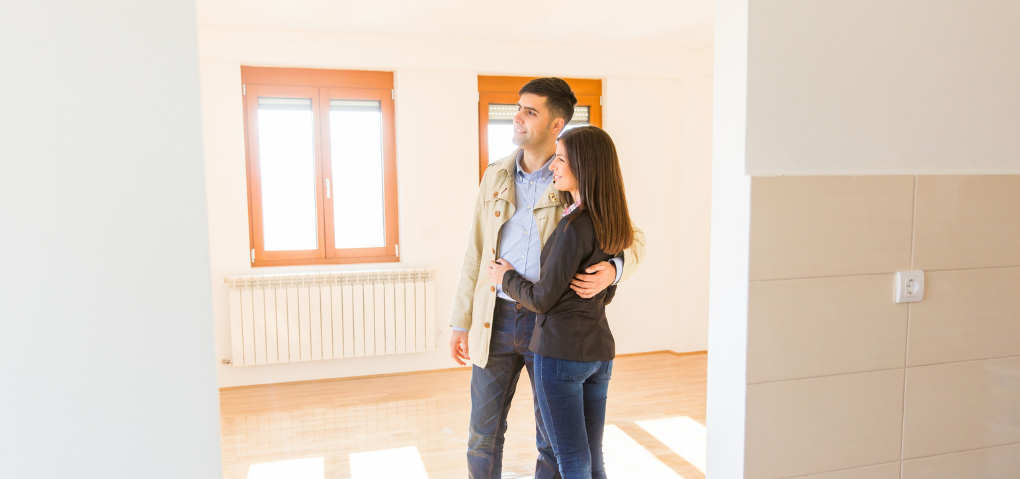 How to Sell Your Current Home
Finding a new property is normally the fun bit. It's extremely easy to get caught up in the excitement of it all. Just make sure you give equal attention to selling your property. After all, you want to get a good price for it to cover as much of the cost of your new home as possible.
Below are a few important elements involved in selling your property.
Identify Your Home's Best Features
Take a look at the questions we recommended you ask when buying a property again. If you're selling a property with some good answers to those questions, make sure you mention them in your advertisement or tell the estate agent managing the sale about them. Your estate agent can make those features really clear to prospective buyers of your home.
Arrange Valuations
Although you want someone to pay a decent sum for your property, you don't want to price people out and make it harder to sell. The best way to ensure you put it on the market for a reasonable amount is to have a valuation and ask your estate agent about the local market, so you can see how your home compares. You can also ask how to improve your home and boost its value by applying each of the questions we recommended earlier. For an even more accurate value estimate, we recommend having at least 3 valuations from different estate agencies. You can then use the average figure, rather than rely on a singular opinion.
Advertise Your Home
You can advertise your property yourself or have your estate agent do it. There's no legal requirement to use their advertising services but it's a smart move if they've got an encouraging reputation. Just be aware that estate agents will charge you to advertise and it's normally priced as a percentage of your final sale price – usually around 1.5%.
Online property advertisers are also becoming a popular option for sellers. However, it's worth noting that you'll likely have to arrange viewings yourself and pay fees upfront, regardless of whether you end up selling via that website or not.
Show Your Property in Its Best Light
You're more likely to sell your home quickly and for a good price if it's looking its best when people come to view it.
Here are our top tips:
Declutter to make each room feel as spacious as possible
Go beyond spring cleaning and check for things like spent bulbs, messy shelves, and curtains hanging off rails
Mow the lawn, weed the flowerbeds, and trim edges in the garden so it looks well-cared for – this is especially important in properties with a front garden as it'll form part of a potential buyer's first impression when they view your home
Complete any DIY jobs that were previously abandoned. Fix that broken tile, fill in some chipped plaster and touch up that worn paintwork
Add finishing touches, like flowers in the window, matching towels in the bathroom and neatly arranged cushions on sofas. These all give buyers an idea of what their home could look like – ever heard of the term "show home"?
Address any big projects early. You could give your home a complete repaint, replace rotten windows, re-grout tiles, treat wooden floors, and more
The Cost of Moving House
Moving home is not only stressful - it's expensive.
The estimated cost of moving house in the UK in 2022 was around £14,000 - this includes things like Stamp Duty, estate agents fees, legal fees, removals and more
How can you save money? You can't cut certain expenses completely but you can reduce them by comparing providers. We recommend obtaining at least 3 quotes per service.
It's important to be aware of any additional hidden costs you might have to pay, such as HM Land Registry fees, electronic transfer fees, property fraud fees, mortgage arrangement fees, storage fees, phone line and broadband setup costs. The amount you pay will likely depend on the services you use.
John Charcol can help you organise everything, from finding a removals company to setting up bills, with our free Concierge Service.
Managing the Chain
The property chain refers to the number of properties involved in a sale. For you, moving home will likely involve selling a property to move into another. That's 2 properties. But the people from whom you're buying a property will likely be moving into a new place themselves and the people buying your property will be moving from somewhere – and so on. You've got yourselves, your buyers, their buyers, the people selling you their property and the people they're buying from – that's a lot of buying and selling contracts that need to change hands. To make matters even more complicated, all these transactions need to complete on the same day.
There's Good News and Bad News
The bad news? Stress and nail biting is inevitable when moving home. The good news? Most of the head-spinning contract stuff will be taken care of by your solicitor.
Here's how you can stay on top of everything and remain informed throughout the process.
Don't be afraid to chase people up – if you haven't heard anything from your conveyancer for a while, give them a call to find out what's going on
Learn as much as you can about everyone's diaries. There's not too much you can do about other people's commitments, but knowing when they're unavailable helps you manage your own expectations - e.g. if you know that someone's conveyancer is on holiday you'll be aware of a delay
Put clauses in your selling contracts.This puts pressure on others in the chain and lets them know that they need to stay on top of things. No one wants to be the weakest link
Fix the big problems as soon as you can. Hopefully, your survey will give your property a good review, but if there are big things to be fixed, it could cause someone to pull out and destroy the chain
Have a backup plan – only take your property off the market once your buyer has a Decision in Principle, as this makes it less likely they'll back out. Similarly, keep an eye on other properties you could move on quickly should your purchase fall through
Creating a Moving Budget
As you prepare to move house, creating a budget that factors in any hidden costs will help you keep up with your finances.
Within your budget, you should note everything you'll need to pay for, such as:
Removal company
insurance, boxes
Appliances
Furniture
Bills
Stamp Duty
This will prevent any surprises from cropping up and affecting the process.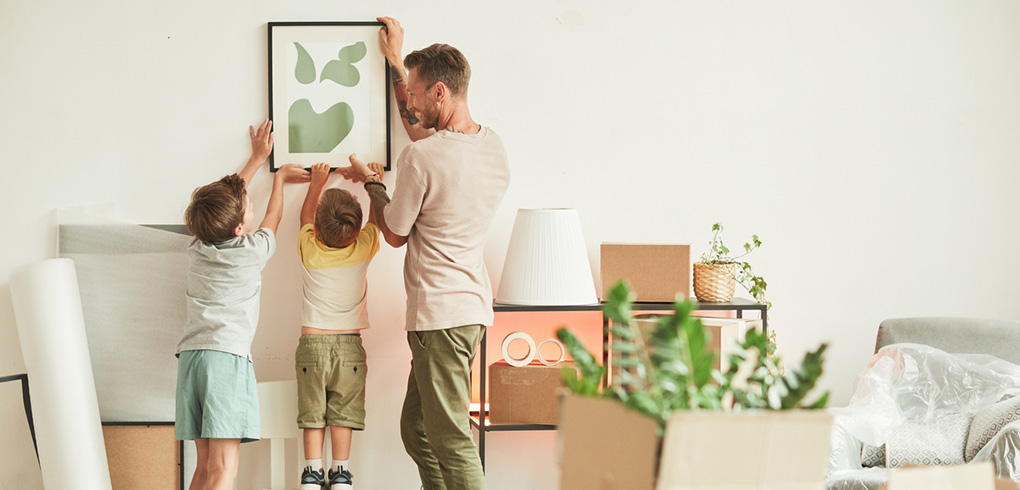 Part 2: Moving Home and FAQs
If you've found your new house and are preparing to relocate, it's normal to have many questions about your next steps and what things to do when moving home. To support you, the second part of our moving houses guide focuses on ensuring that you're organised so that your moving day and the first few days in your property go as smoothly as possible.
Moving House Checklist
There are many things to do when moving, but you don't have to do everything at once. There are different stages. We've outlined below what you need to do as you approach your moving date.
6 weeks before you move you should:
Obtain quotes on removal costs
Decide what you're keeping and arrange to get rid of the things you don't want anymore
Make an inventory of your possessions
Start to clean out cupboards and gather belongings by room
Collect packing materials like boxes and bubble wrap
Check parking restrictions for any removal vehicles at your new property
4 weeks before:
Finalise the exchange of contracts and moving date with your lawyer
Book a removals company
Find storage facilities if you need them
Organise for your new property to be cleaned before you move in
Start physically packing non-essentials
Contact utility suppliers to tell them the date you're moving out- it's worth downloading any important documents in case you won't have the internet immediately set up in your new home
1 – 2 weeks before:
Settle all bills and contact companies to let them know you're moving - e.g. your phone provider, bank, subscriptions, etc.
Contact postal redirection services
Pack everything, label the boxes and make a list so you know everything in each box
Take apart furniture and be careful to put screws and bolts into labelled bags and keep them in a secure place, or stick them to the furniture they belong to
Make a box filled with the essentials you'll need access on the day you move in, e.g. kettle, toilet tissue, bedding, plates, pyjamas, etc.
Organise all important documents where you can easily find them
Take a final meter reading and pass it onto the suppliers
Collect keys to your new property
Finding a Moving Company
When moving home you want to make sure your removals are sorted at least 4 weeks before the moving day. Most moving companies can be found via Google search, but if you're staying local, you might be able to ask family, friends, or colleagues for recommendations.
Contacting a few moving companies is beneficial, as doing so will enable you to compare prices and guarantee that the moving company has the space and capacity to help you move to your new home.
Don't forget to look at testimonials from previous customers – if a moving company has more bad reviews than good, it's best to look elsewhere.
Decluttering Your Belongings
Preparing to move can help you gauge how many belongings you have and whether you still use or need them. So as you prepare to pack, consider decluttering your possessions.
If you find belongings you don't need or want, why not create piles for anything you could donate to charity, sell, recycle or need to take to the tip.
Creating an Inventory List of Your Belongings
After decluttering, you can start creating an inventory list of the rest of your belongings. Not only does listing what you have in each room make the packing process more manageable, but it'll help you determine if anything is missing once you've moved and settled into your new home.
Packing Tips and Checklist
When the time comes for you to start packing, creating a packing checklist can relieve any stress you may be experiencing. On your checklist, think about including the following:
Purchase of moving items such as boxes and bubble wrap
Assigning certain boxes to specific rooms – for example, wardrobe boxes for bedrooms
Pack one room at a time – add each room to your moving house checklist and tick it off once complete
Close and tape boxes shut
Write the names of each room on each box
Add fragile packing tape to any boxes that contain valuables or anything that could break easily
Place boxes near the entrance to every room
Final check of cupboards and drawers to make sure nothing has been left unpacked
Remember to also make sure that your boxes aren't too heavy, especially if you have to carry them into the house yourself.
Moving Day Essentials
It's easy to forget the things you need most on a moving day while arranging the removal company, making sure nothing is left behind, and travelling to your new home. But there's nothing more annoying than arriving and realizing that you don't have scissors to open boxes, or bin bags for rubbish.
To help make moving day that little bit easier, here are a few of those all-important essentials to take with you in the car:
Scissors
Bin bags
Cleaning equipment
Toilet paper
Glasses and cups
Paper plates
Food
Water
Tea bags and coffee
Cutlery
A kettle
Checklist for Moving Day
On your moving day, creating another checklist can help you stay organised. But what should you include? Here are a few ideas:
Leave all sets of keys with the estate agents you've used for selling the property
Check all windows are secure and utilities are switched off
Locate metres and take readings in your new home
Move furniture into the house first so you don't have to move it all around again
If you're not paying for cleaners to do a deep clean of the property, then carry out an initial clear up yourself before you start unpacking
Flatten some cardboard boxes and lay them down to protect the flooring before unpacking
Unpack by room
Check all the utilities are running
Make sure you have keys to every door, window and cupboard, and find out what day your bins are collected
Account for every item in your inventory
Tips for Getting Settled and Organising Your New Home
It's easy to become overwhelmed when you first move in. But, there's also no better feeling than making a new property into your home.
Here are some tips so you can make the most of this time - and actually enjoy it!
Unpack room by room
Start with bigger pieces of furniture then move onto soft furnishings, cupboards etc.
Locate any essentials you'll need for each room early on in the unpacking process - e.g. bedding for the bedroom, frying pan for the kitchen, etc. That way you'll be able to settle in without feeling as much of a rush to sort everything in one go
Once you have the basics sorted, organise things that make you feel happy and homey, like your favourite artwork, pillows or games console
Say hello to your new neighbours, explore your new neighbourhood and invite your friends and family to visit you in your new home
Remember: it's a marathon - not a sprint!
Updating Your Address and Utilities
You need to inform just about everyone when you change address.
Some examples include:
Personal, work and educational contacts
Family and friends
Your employer
Schools, colleges, universities
Government bodies and organisations
DWP – depending on your circumstances
HMRC – depending on your circumstances
DVLA
Electoral roll
TV licensing
Local authority – for your final Council Tax statement
Finance
Banks
Insurance providers - e.g. car, home, mobile phone, pet, life and health
Pension services
Student loans services
Utility suppliers - e.g. water, gas, electricity
Bills - such as phone, broadband, TV, mobile
Health services
Doctors
Dentist
Optician
Vets
Gym
Subscriptions
Clubs/societies
Services - such as cleaners or gardeners
Cancelling Old Services and Subscriptions
As well as updating your address and utilities, you'll need to cancel any old services and subscriptions. This might not apply to you if you've moved to a new house in the same town, as your gardener, for example, may be willing to travel. In this case, you'll just need to make sure they know where to go. But if you've moved to a new area, cancelling services and subscriptions guarantees you're not left paying for something you're unable to access or use.
Notifying People of Your Change of Address
In addition to updating your address and utilities, you may also want to notify family, friends and anyone else who had the previous address that you've moved.
Changing Your Driver's Licence Address
Changing your driver's licence address might not be at the top of your to-do list, but it's important to get this done. If you don't do this swiftly, you could face a hefty fine.
Once you've moved, you can update your address online, which makes the process somewhat easier. You can also update it by post.
Moving Home FAQs
Throughout this moving house guide, we've shared our moving house checklist and several ways to manage the process when moving home. But we understand that you may still have some unanswered questions. To help you, we've answered a few of our most asked moving house FAQs below.
How Long Does Moving Houses Take?
This entirely depends on how much time you're allocating to moving, whether you're moving into a smaller or larger home, and even where you're moving to. Including purchasing, the moving process could take anywhere from a few months to a few years.
How Do I Update My Address?
Updating your address for bills and subscriptions can be done online nowadays, which makes the process easier, not to mention quicker. You can also phone or email to inform your providers of your address change.
How Do I Arrange Home and Content Insurance?
At John Charcol, our team of experts are on hand to take some of the pressure off your shoulders and arrange home and contents insurance for your personal belongings.
Finding a Mortgage
We hope this moving house guide helps you in the process of moving. But don't forget that we're on hand to help.
We can find you a mortgage, so you can move up the property ladder and into a bigger, better home. See Moving House Mortgages for more information on what we offer. Or call us on 0330 433 2927.