Whenever you purchase a property, it'll either be a freehold or leasehold property, which are both popular options for both residential and investment properties. With freeholds, you own both the property and the land it is on. With a leasehold property, you'll only own the property for a specific time. Leases can be very long, but most are typically between 90 and 120 years. This makes buying a leasehold property different from buying a freehold and requires a different type of mortgage. Leasehold mortgages usually come with many more terms and conditions than freehold properties, which can make the buying process longer as lenders must check the lease terms to ensure the property offers sufficient security for a mortgage.
If you're considering getting a mortgage on a leasehold property, this guide will answer all your questions, including: "can you get a mortgage on a leasehold property?", "what are the different leasehold mortgage requirements?" and "can I get a buy-to-let mortgage on a leasehold property?"
What Is a Leasehold Mortgage?
Any property you buy will either be freehold or leasehold property. If it's a freehold, you own the entire property and the ground it sits on. Meanwhile, a leasehold means that, while you own the property, you don't own the land it's built on. A leasehold will be for a specific time, up to 999 years, although in most cases it will be 90 to 120 years. Still, some leases can be considerably shorter, around 40 years. As you'll be effectively renting the land from the freeholder, you'll likely be required to pay them a monthly ground rent.
Once the lease expires, the ownership of the land your property is on returns to the freeholder. Essentially, leases are contracts that contain certain terms and conditions, including:
Conditions on renewing and extending
Ground rent
Lease term
Service charges
Can I Get a Mortgage on a Leasehold Property?
Getting a mortgage for a leasehold property is much the same as a standard mortgage. Lenders will have specific eligibility criteria and carry out affordability checks to ensure you can afford the repayments.
However, the main concern for lenders for leasehold properties is the length of the lease. While extending or renewing leases is possible, the shorter the lease, the more reluctant a lender is to approve a mortgage.
For example, if the property you want to buy only has ten years left on its lease, you'll struggle to get approved for a mortgage. Most lenders will refuse a mortgage on properties with a lease under 70 years. Values can fall as leases get shorter, so lenders typically prefer leases to extend to at least 40 years after your mortgage term ends so the property value isn't affected. Lenders will also consider the cost of ground rent and estate charges and may either decline your application or require a larger deposit.
Why Are Mortgage Lenders Concerned with the Length of the Lease?
When it comes to leasehold properties, the length of the lease is likely to be the biggest factor in whether you can get a mortgage. Most lenders will want 60 to 80 years remaining on the property lease from when the mortgage term has finished. The lender will want to ensure that if you default on your mortgage, they aren't left with a property worth less than the original mortgage loan. After all, a property with a long leasehold (for example, 500 years) is likely to be worth considerably more than a property with a term of just 20 years.
If the leasehold property you want to buy has a short lease, you may be able to ask the seller to extend the lease term before they sell the property. This should make it much easier for you to get a mortgage and increase its value.
Can I Extend the Lease?
You should be able to extend your lease, but the shorter the original lease, the more expensive it'll be to increase. It could cost you anything from £2,000 to £15,000. If the lease is less than 80 years, you can expect to pay around 50% of the extra value, which will be added to the property after extending the lease, also known as marriage value.
If you're looking to purchase a leasehold property, it's a good idea to consider extending the lease as soon as possible, which you can do from when you own the property. You can only extend the lease once you have owned the property for two years under the statutory route. However, you could informally request a lease extension, but remember, the freeholder is not obliged to extend the lease before this time.
What Impact Does Length of Lease Have on a Property's Value?
Extending a short lease mortgage can add thousands to your property's market value. Here are examples of the typical costs of extending a lease on a property worth £200,000.
| Current Lease Length | Cost of Extension | Professional Fees | Total | Potential Added Value |
| --- | --- | --- | --- | --- |
| 99 Years | £5,000 | £2,500 | £7,500 | £5,000 |
| 85 Years | £6,000 | £2,500 | £8,500 | £10,000 |
| 79 Years | £8,500 | £2,500 | £10,500 | £16,000 |
| 70 Years | £14,000 | £2,500 | £16,500 | £26,000 |
| 60 Years | £24,000 | £2,500 | £26,500 | £38,000 |
If there are over 90 years left on the lease, the added value is only a little more than the cost of extending the lease. However, once you reach 79 years, the extension costs rise considerably as you'll have to pay 50% of the property's marriage value on top of the lease extension price.
Can I Switch from a Leasehold to a Freehold Mortgage?
Leaseholders have the right to buy their home's freehold as long as they meet specific criteria. Otherwise, it may be possible to negotiate with the freeholder to buy the freehold. If the freeholder refuses to sell you the freehold under the Leasehold Reform Act 1967, you may be able to endure an agreement. The Act outlines the necessary process and timescales to obtain a freehold, and a Tribunal will ultimately determine the terms and price of the purchase. However, it can be a complicated process, so getting professional advice from a surveyor or solicitor is a good idea.
How Much Does a Mortgage for a Leasehold Property Cost?
A mortgage for a leasehold property is likely to cost more than a freehold property mortgage. This is mainly due to leasehold properties posing a greater risk for lenders than freehold homes. However, if a property has a very long lease, it may be possible to secure fairly competitive rates. Other factors that can impact the cost of a leasehold mortgage include the size of the deposit you put down and your credit history. It's also common for conveyancers to charge more for leasehold properties as there is often more legal work involved.
Are Freehold Mortgages Better?
While you might find mortgage costs slightly higher, there are some advantages to a leasehold property. For instance, building insurance is often covered by the owner of the freehold, which means you have one less expense. Also, if the property has a long lease, you should have little to no problems renewing it. Things like garden maintenance and communal repairs are also covered by your service charge, saving you considerable time and possibly even money ensuring the building and its grounds are maintained. However, with a freehold property, you own the entire building and the land it's built on.
Can I Get a Buy-to-Let Mortgage on a Leasehold Property?
It's possible to get a buy-to-let mortgage on a leasehold property, but you should first consider the length of the lease. If you choose a buy-to-let mortgage on a property with a relatively short leasehold, you can expect to be offered less competitive interest rates. Buy-to-let properties also tend to have lower LTV (loan-to-value) requirements, so you may be required to put down a much bigger deposit on a leasehold property.
Can I Get a Commercial Mortgage on a Leasehold Property?
Commercial mortgages on leasehold properties are fairly common, especially for people starting a new business. This is because you put down less capital upfront, leaving you with more money to invest in your business. Leasing also provides more flexibility, which can be very useful should you relocate your business to different premises as it grows.
Can I Get a Leasehold Mortgage on a Flat?
Leasehold mortgages are very common for flats and maisonettes in the UK. The leasehold ownership of a flat relates to its interiors, such as the floorboards, walls and ceiling. It doesn't tend to relate to the exterior or structure of the flat or anything outside it. The freeholder will own and be responsible for any communal areas and the land on which the flat stands.
As the leaseholder, you'll likely be required to pay a communal service charge for the upkeep of the grounds and communal areas. You'll also have some rights to the property as the leaseholder, but not if you're only renting the property. If you decide to convert a house into separate flats to sell, you'll need to divide the flats into separate leasehold properties. Your solicitor will sort out the freehold ownership, which you may choose to retain (as long as you aren't also a leaseholder of one of the flats).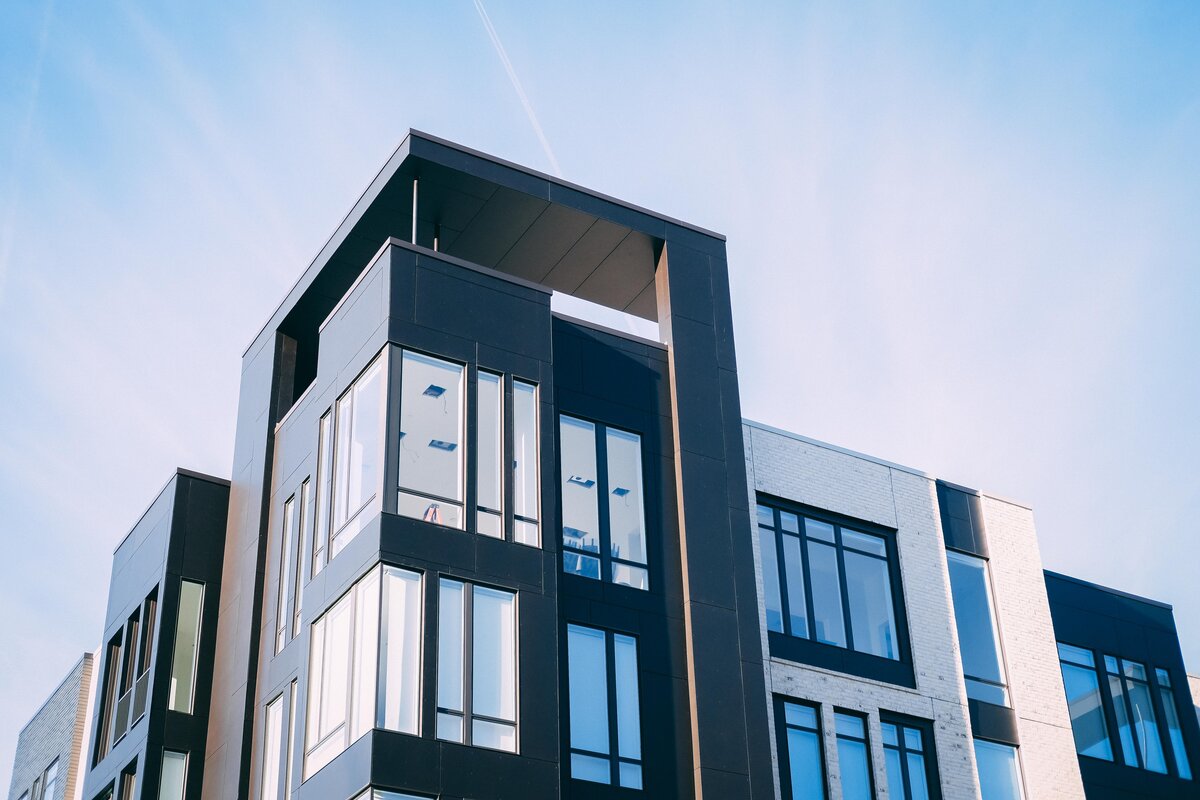 Can I Get a Leasehold Mortgage on a Property with Estate Rent Charges?
Some properties will require an estate rent charge to be paid to the freeholder to cover the general maintenance and upkeep of communal areas. The mortgage lender may consider this when assessing your mortgage application. While most lenders don't view it as a deal-breaker, a few lenders will automatically refuse to lend on residential properties with estate rent charges or put certain caveats. For instance, some lenders insist that:
The charge cannot double every 25 years
The initial estate rent charge cannot be above £500
The agreement prohibits the recipient or collector of the rent charge from creating a lease over the property
They will only lend if the owner of the estate rent charge is a management company made up of other residents
Where Can I Get a Leasehold Mortgage?
Many mortgage lenders offer leasehold mortgages, but each has its criteria. However, the most common factor lenders look at is the length of the lease. For instance, the Bank of Scotland and Barclays require a minimum of 70 years, while HSBC ask for leases to be at least 85 years long from the mortgage completion date. Lenders such as Nationwide (requires at least 30 years remaining on the mortgage terms), Bradford & Bingley (requires mortgage term plus 25 years) and Habito (50 years at the end of the mortgage term) are a little more generous.
What Are the Drawbacks to a Leasehold Mortgage?
Alongside the potential costs of extending a lease, there are other things you need to consider before buying a leasehold property. For example:
Ground Rent May Increase
While the amount of ground rent you're required to pay may be affordable when you purchase the property, it will be re-assessed on an ongoing basis to reflect the property's market value. This means that if values in the area soar, so could the cost of your ground rent.
No Benefit from Land Value Increase
As the leaseholder, you don't own the land that the property stands on; therefore, you won't be able to benefit should the value of the land increase. The freeholder, however, will benefit. Due to this increase in land value, you may also have to pay more ground rent.
Fewer Available Lenders
As more risks and complications are associated with mortgaging leasehold properties, you may find it more difficult to get a mortgage. With fewer lenders available, you'll have less choice regarding mortgage products and competitive interest rates. You may also be required to put down a larger deposit.
Leasehold Properties Can be Harder to Sell
While most flats are commonly purchased with a leasehold, you may find it more difficult to sell a leasehold house, especially if it has a relatively short lease remaining. This is largely due to the lack of demand for these properties and the associated risks. However, a leasehold property can be a great option for some people. It'll be dependent on individual circumstances.
Can I Buy a Property's Freehold?
It's possible to buy the freehold of a property, but it's not always easy. A developer or estate management often holds the freehold or sells it to a third party, such as an investment company, who may put up the freehold cost to make a fast profit. You can find out who owns your property's freehold by searching the title register at the Land Registry.
What Are the Criteria For a Leasehold Mortgage?
Just like with every mortgage, a leasehold mortgage has certain criteria you'll be required to meet, which can vary depending on the lender. While the length of the lease is a big factor for most lenders, other factors can impact your eligibility.
Loan-to-Value
LTV is the ratio of how much money is borrowed against the cost of a property. Some lenders will accept an LTV of 95% (with a 5% deposit), others will accept 90%, while most others will accept 85% and under.
Affordability
As with any mortgage, lenders will consider your affordability before approving your application to ensure you can keep up with your mortgage repayments.
Other Factors
Several factors will impact your overall mortgage eligibility, including age, credit history, and the construction type of the property.
Is Buying a Leasehold Property a Good Investment?
If you've found your dream home, you shouldn't let the fact that it is a leasehold property put you off. However, make sure you go into the purchase with your eyes wide open. Find out much it'll cost you to extend the lease and the cost of the service charges. But what's most important is to find out how long the lease is before you commit to buying the property, as this will impact what mortgage you can get. If you're looking for a leasehold mortgage, speak to our team of independent advisers at John Charcol.
At John Charcol, we have access to an extensive range of mainstream and specialist mortgage products, including those for leasehold properties, and our experienced advisers will be able to help you find the right financing option for you. Get in touch with us on 0330 433 2927 or submit an online enquiry.