Flats are very popular, especially with first-time buyers or people who want to live in urban areas at a lower cost. You can generally buy a flat at a lower cost than any other type of house. There are a few things that can make it harder to get the right type of mortgage for your flat. Whether you want to buy a flat as your home or as an investment opportunity for renting out, there are a couple of things to be aware of.
This guide will cover how to mortgage a flat for sale that you've had your eye on. We'll look at flat types, types of usage, as well as the difference between leasehold and freehold for flats. Check out our house buying guide for more information on purchasing a property.
What Type of Mortgages Can I Get for a Flat?
If you're looking to live in the flat as your main home, you'll be able to get a residential mortgage. If the flat is intended as a second or holiday home, you'll usually find stricter lending requirements.
If you're looking at the flat as an investment, you'll likely need a buy-to-let or a holiday let mortgage. These often have higher deposit requirements, interest rates, and further affordability checks to get a second home if you have a pre-existing mortgage on a residential property.
Why Are Some Flats Hard to Get Mortgages On?
There are some flats where you might need a specialist mortgage. These will usually be cases where the mortgage lender is worried about saleability. In the event that a buyer defaults on their mortgage, the lender will have to repossess and sell the property to recoup the money they paid out. This means that lenders will be less eager to take on properties that could depreciate in value or be harder to sell.
Residential Flat Mortgages
Residential mortgages are for flats that you intend to live in, either as your main home or a second home. This is usually a good option as it typically has lower deposit amounts than other mortgage types. Deposits on a residential mortgage for your primary home will usually be as low as 10%, though some lenders will offer mortgages with a 5% deposit.
For a second home, the deposit could be higher, with some lenders requiring a minimum of 20%. This is because people are more likely to miss payments on their second mortgage.
This mortgage type is very easy to find. Most mortgage lenders will offer residential mortgages on standard flats, though there are some flat types where you might still need to find a specialist lender.
Rental Property Mortgage
There are two main types of rental property. If you want to buy a flat as a long-term rental, you can get a buy-to-let mortgage. This will typically require a rental agreement with the occupant for 6 or 12 months at a time.
For this type of mortgage, your affordability will be based on your income alongside the expected rental income from the flat. As a good rule of thumb, you should have rental income that covers 125% of your interest-only mortgage payments, in order to get a buy-to-let mortgage. Deposits for buy-to-let mortgages on flats will usually be a minimum of 20%, though many lenders require 25%. Look into tax changes for buy-to-let properties, as this can help you determine if the deposit amount and the payments are achievable.
Holiday Home Mortgage for a Flat
For shorter-term holiday lets, you'll need a holiday let mortgage. This type of mortgage can be slightly harder to get, as income from holiday lets is more variable throughout the year. Your affordability will be calculated based on the rental income averaged out across a year, from high, medium and low seasons. Take into account if you intend to use the property for your own holidays, as this will lower your income potential.
Mortgage for a Flat Above Commercial Premises
Getting a mortgage for a flat above a restaurant or shop can be more difficult. Most normal high street lenders will consider your application but are less likely to offer a mortgage. Lenders will consider saleability and suitability. They will often look at valuers' comments on the area and the property in particular in order to judge whether to offer a mortgage.
If the flat is above, or next to, commercial property and is otherwise self-contained, your chances of getting a normal residential mortgage are higher. This is due to the fact that your lease is only tied to the flat. If a mortgage lender determines there is good resale value on the flat, your maximum LTV will usually be around 75%, with a 25% deposit.
If you're looking at purchasing a less saleable property, it's a good idea to find specialist mortgage lenders for flats above shops, restaurants, or for mixed-use properties. In these cases, you'll need two separate mortgages, one commercial and one residential, or a specialist combined mortgage. A mortgage broker is an ideal solution in these instances.
Self-Contained Flats
Also known as a granny flat, self-contained flats are on the same freehold as a house. Often used by older relatives, they preserve a sense of privacy and freedom. Lenders typically provided mortgages for the title and freehold, including the main property and flat. Self-contained flats will likely be considered a standard residential mortgage. They are usually also required to have their own entrance, separate from the main property.
These properties can be higher cost than standard homes, so consider your affordability for a mortgage on a granny flat and house. Look at options that let you jointly purchase the property with whoever will be living in the self-contained flat.
If you plan to use the flat for business or rentals, there are mortgages available. If you're looking to rent it out, you might need a combined mortgage type and not all lenders will consider this rental income under your affordability. There are also tax implications to consider if you're renting out a flat that you later want to live in. If you plan to use the flat for your business, you can usually get a standard residential mortgage, though lenders will normally only allow this if the flat is less than 40% of the total property size.
Mortgage for Small Studio Flat
A lot of lenders have a minimum flat size for mortgage offers. This is usually 30 square metres, which can rule out some small studio flats. Some lenders will have no minimum size and will instead base their decision on valuers' comments and other prices in the area. Refer to a specialist lender for small studio flat purchases.
New Build Flats
New build flats are relatively simple to get mortgages on. However, it can be harder for lenders to get an accurate valuation of the flat. In order to protect themselves against a possible depreciation of the flat's value, most lenders require a higher deposit. Deposit requirements usually start at around 25% for new build flats, though some lenders will offer higher LTV rates. If you're looking at buying a new build flat with a lower deposit amount, the Help to Buy scheme is a great place to start.
Maisonettes or Duplexes
Maisonettes and duplexes are usually treated as standard flats, even if they're spread over multiple storeys. There is a higher risk of freehold issues with converted maisonettes, as they're more likely to share the freehold attached to the property before it was converted.
Flat Conversion Mortgages
Buying a flat that's been converted from part of a house is typically straightforward and will be handled the same as any other residential mortgage. If the conversion is recent, or if non-standard construction methods have been used, there might be additional checks or a higher deposit. This is to cover any associated risks and potential difficulty selling the property later on.
If you want to convert your house into flats, you'll need to get a different type of mortgage or financing. You could be eligible for a self-build or renovation mortgage to cover the costs. These typically require a fair amount of planning, as lenders will want to see that your renovation plan has a good chance of success. You could also look into development finance, remortgaging an existing property, or personal loans.
Mortgages for High-Rise Flats
It can be more difficult to get a mortgage for a high-rise flat. High-rise is typically anything above 5 storeys, though some mortgage lenders will loan on up to 7 storeys. High-rise flat mortgages are usually considered on a case-by-case basis. If the building is relatively modern and uses standard construction methods this will be easier to mortgage. Older buildings, non-standard construction methods or unfavourable cladding types are more difficult to mortgage. If you're looking at high-rise flats, contact us at John Charcol and one of our specialist advisers can go through all of your options.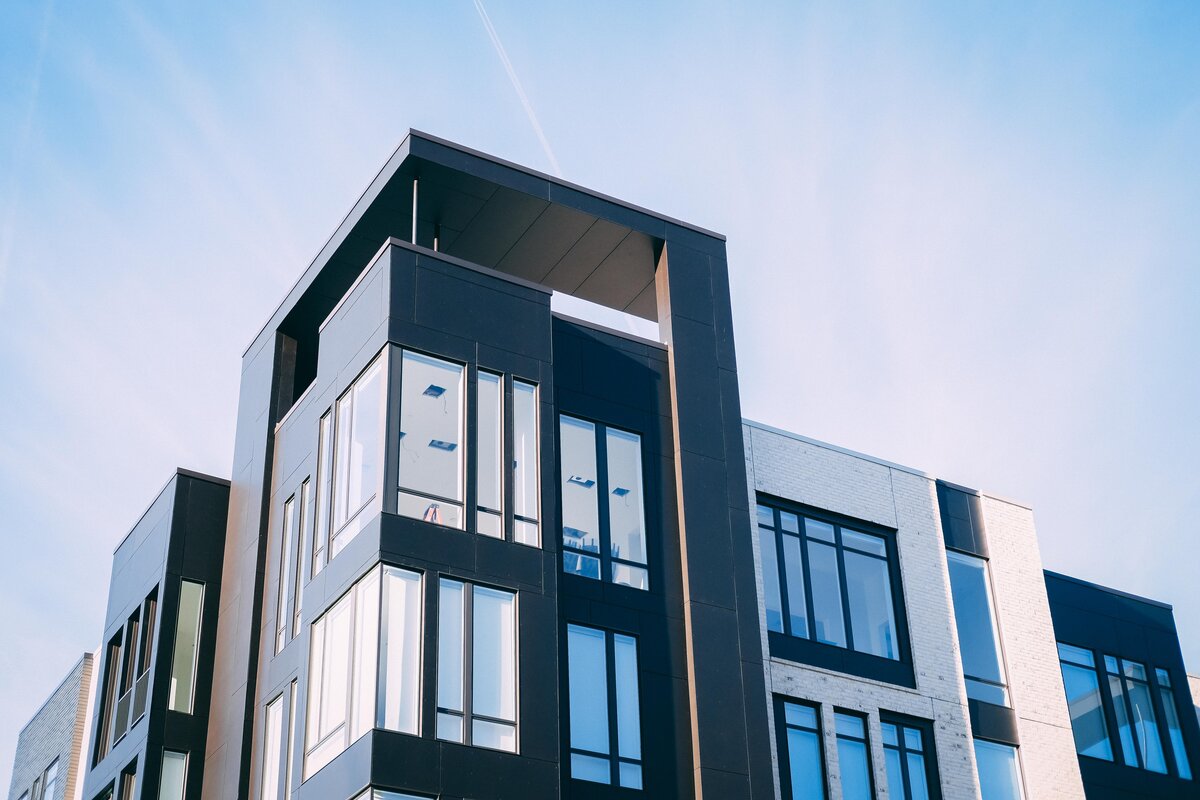 Non-Standard Construction Flat Mortgages
It's always important to find out how a flat was built before applying for a mortgage. Many flats, especially ex-local authority flats, are made from non-standard materials, such as concrete. These flats come with a risk of high maintenance fees, low saleability and the potential to drop in value. Many of these are also high-rise flats. It can be difficult to find a lender for a flat with certain cladding types and you'll need to find a specialist lender in these cases.
Before applying for a mortgage on a non-standard construction flat, make sure to get full property surveys done. This will show if there are any structural issues with the flat that could cause problems later. Mortgage lenders will usually require surveys on flats like these.
Freehold vs Leasehold
Freehold and leasehold refer to the ownership of the ground on which the property is built. If you buy a property with freehold, this means you would also own the land it sits on. If you buy a property with a leasehold, you would be renting the ground.
Most flats are leasehold because they share the same building land.
Mortgages for Leasehold Flats
Getting a mortgage for a leasehold flat is relatively simple. Make sure to find out how long the leasehold is set for. Leaseholds can be arranged for hundreds of years. If the leasehold is too short, it could seriously affect the saleability of the flat. Typically, you should look for a property that will have at least 90 years left on the leasehold by the time your mortgage term ends. Some lenders will offer mortgages on flats with only 60 years left at the end of the term, but these are less common. It's possible to extend the leasehold, though this can be expensive.
Mortgages for Freehold Flats
If you need to get a mortgage for a freehold flat you might have to find a specialist lender, as these are uncommon. The split of ownership could be complicated, even if there are only two flats within the freehold. If you buy the freehold entirely, you'll be liable for maintenance and any issues that the other owners face as a result of land issues. Some flats will let you get a share of a freehold arrangement when you buy the property. Be aware that this can complicate matters, as all owners have to coordinate on any issues or maintenance problems that arise.
How Do I Get Insurance for a Flat?
Getting insurance is a requirement for any mortgage. Luckily, getting insurance for a standard flat should be quite straightforward. For complex cases, it could be harder to find insurance. For example, with non-standard construction methods, high-rise flats, flats with shared communal spaces, or mixed-purpose properties you might have to find a specialist insurer. Consider other insurance types to adequately protect your property.
Mortgages for Flats: The Bottom Line
Getting a mortgage for a flat does not always have to be more complicated than for a house. The primary difference between flats and houses is whether they are freehold or leasehold. While freehold is a simple matter when you are buying a house, it can complicate matters when buying a flat. Leasehold flats are generally simple to mortgage and are the most common type of flat.
As with any other property type, there are other issues to consider. Most lenders will consider the saleability of the property as the main deciding factor in whether or not to accept a mortgage application. Some flats have low saleability and, in these cases, you might need a specialist lender. For example, it can be hard to get a mortgage for a high-rise flat, a very small flat, a non-standard construction or cladding, or other unusual buildings.
If you're buying a flat as your primary residence, you will usually be able to get a standard residential mortgage, with similar rates to houses. A buy-to-let flat is typically treated the same as a house, provided that the predicted income is high enough. If you're looking at buying a mixed-use building, you will need a specialist or two individual mortgages.
In these instances, it's highly advisable that you contact a mortgage broker. Here at John Charcol, we have expert brokers who have access to specialist lenders and can help you find better rates on flat mortgages, even for difficult or less desirable cases. Whether you want to buy your first home or are looking at a rental opportunity, get in touch today to see how we can help.