Many people associate prefabricated homes with the cheap temporary structures built after World War 2 after air raids left many people homeless, some of which still survive today. However, prefab houses have come a long way since then. Prefabs these days are often highly designed and customised houses, built by manufacturers offsite, often delivered in sections for assembly in a matter of days.
Prefab - or kit houses - are becoming increasingly popular, especially among young professionals in the rental sector who view the prefab route as an affordable way of buying a home for the first time. Kit houses are also associated with being more eco-friendly and energy efficient and an alternative to the traditional brick-built structure. There are many different types of prefab homes now on the market and they're likely to become even more popular in the future.
As prefabs are classified by mortgage lenders as being of non-standard construction, there can be challenges associated with getting a mortgage on a prefab house. However, it is possible to find a mortgage for a prefab with the right advice.
Despite the increasing popularity of prefab houses, it's important to make an in-depth assessment before you make your decision. This guide will help you consider the main implications of deciding to buy a prefab.
What Is a Prefab House?
A prefabricated house is manufactured in a factory and then moved to the site where it is assembled. Prefab houses are the quickest way to build a home and are often more affordable and sustainable too. They're typically made with a steel or wood frame, with wooden panels and insulation cladding fixed in place once at the site.
There are also prefabs made from concrete, these are typically older properties. They are often modular in design, with standard components for each part of the house. Prefab houses are manufactured by companies that also deliver and construct the house for thousands of clients each year.
What Are the Different Types of Prefabricated Houses?
There are 3 main types of prefab houses on offer in the marketplace.
Modular Home
The components of the modular home are made in the factory, transported to the plot, and assembled on a permanent foundation.
Manufactured Home
Also known as mobile homes, these houses are built in large sections and then fully constructed onsite. These homes are not constructed on a permanent foundation.
Kit Home
The building is manufactured in parts in the factory and then assembled either by private contractors or by the owner themselves.
Who Makes Prefabricated Houses?
The leaders in contemporary prefab homes are the German companies Huf Haus, Baufritz and WeberHaus. In the UK, the most well-known company is Facit Homes, which uses a digital manufacturing process. In each case, the manufacturers can produce a customised home manufactured and assembled much more speedily than building a house onsite with traditional building materials. According to the Managing Director of Baufritz, construction of the building components takes a week, whereas assembly to a watertight shell takes 2 to 3 days.
What Are the Pros and Cons of Owning a Prefab Home?
The Pros
There are many advantages to buying and owning a prefab building. The energy efficiency, price, speed of construction, level of customisation and site management are all key positives. Let's look at them one by one.
Eco-Friendly
Prefabs often have much better insulation than standard houses thanks to their construction, which includes tighter joinery and more precision. This means they can be more energy efficient and save on bills and the use of fossil fuels. They also tend to have better natural ventilation systems, helping to keep the property cool on hot days.
Price
Prefabricated houses are often a more cost-effective option. They are quicker to build and there is less likelihood of unanticipated cost overruns due to design issues that need extra time and labour to resolve. This also means there's less risk of disruption in your living circumstances.
Construction
Because they're precision made in the factory, prefabs tend to be better built and can therefore withstand harsher weather conditions or changes in temperature across the year. This can also make them more durable.
Customisation
Prefab homes can be built to a wide range of designs and specifications. This means you have more options to customise your house and be distinctive from the average red brick box.
Waste
Modular homes and kit houses require significantly fewer additional construction materials beyond the components supplied by the factory. This means a far more efficient build with no scaffolding and less waste that ultimately needs to be cleared. This also means there's less onsite and neighbourhood disruption.
The Cons
While there are several key positives to owning a prefab house, it's also important to take note of the negatives.
Utilities
If your site is away from other houses, there could be challenges setting up key utilities such as electricity, gas and water, alongside sorting out the sewage. There could also be rough terrain which may make delivery of large housing components difficult too.
Red Tape
You'll have to abide by zoning laws and building codes when planning your prefab housing project. You'll also require various permits and permissions, all of which can take time and cost money. It makes sense to hire an architect or asurveyor to help you with the design of your prefab property. This will give the local council a better sense of what you're building and help make a stronger case for approval to be granted in that location.
Upfront Costs
In contrast to conventional houses, prefabs are typically bought in full upfront, rather than across time. This means that the upfront costs will likely be more than with standard housing.
Land Costs
It's much easier to get a mortgage for a prefab house if you also own the land beneath the building. This means you'll have to factor land acquisition into your financial planning.
Design
Prefab houses may lack some of the unique elements of a traditional brick-built house, such as external detailing and individual design details. Prefabs may look a little out of place in the neighbourhood. Based on the design you choose, it may be more difficult than a brick structure to modify the property, whether it's adding an extension or other structural changes.
Financing
You may encounter more difficulties financing your prefab house with a mortgage, depending on your credit rating and other factors.
Are Prefab Homes Really More Affordable?
Prefab housing tends to be between 10% - 25% less expensive than standard brick-built houses. The cost depends on the design selected and the materials used, alongside other features in the house such as the kitchen and other fittings.
Prefabs are cheaper because of the factory manufacturing process, which minimises the need for additional joiners, electricians and plumbers at the building site. The speed of the build significantly reduces the hours you'll need to spend on these additional labour inputs.
There are other costs you'll need to consider alongside the cost of buying the house components. This includes buying the land, applying for various permits and requesting access to services such as water, electricity and waste. You'll also need to include the cost of building a drive, garage facilities as well as landscaping the grounds to your house.
Some companies have model houses at their headquarters so you can explore the different options. Typically, customised homes from these companies start at £2,000 per square metre.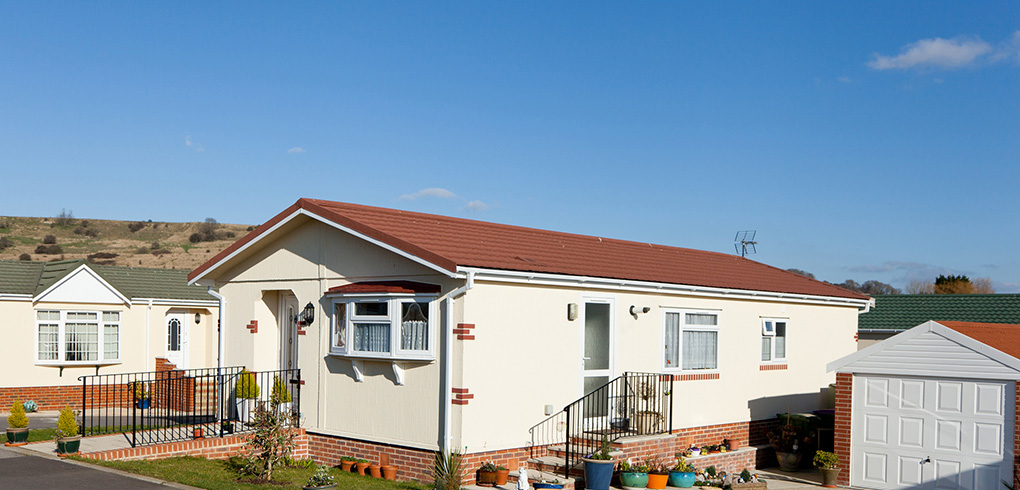 Can I Get a Prefab House Mortgage?
It's possible to find a standard residential mortgage to buy a prefab house, but it will be more challenging than getting finance for a conventionally built property as you'll need to use a specialist lender. This is because mortgage providers view prefab houses as being of non-standard construction and higher risk. Part of the risk associated is based on historical, older concrete prefab houses. Walls constructed in concrete can crumble over the years. If the steel binding rods which are encased in concrete start to corrode, it can cause cracks which threaten the structure. While some concrete houses have lasted over 100 years, others have developed faults after just a few decades. This explains why most lenders tend to be more cautious about lending against prefab homes.
Lenders are also more likely to be cautious about the future value of a prefab house and how easy it will be to resell the house in the event of repossession. Even though prefab properties are likely to be structurally sound, mortgage providers are also concerned about the potentially higher risk of damage and cost of repair.
The non-standard build and structure of prefab houses mean that lenders' criteria for these types of properties vary significantly. During the mortgage application process, the lender may ask more questions about the property than for a standard construction property. They may also require a larger deposit and charge higher rates.
Given this, it makes sense to consider 2 additional factors when you begin your search for a mortgage lender: how easy you'll find it to sell the property and how much home insurance will cost. As with mortgage providers, insurance companies will view a prefabricated house as a higher risk property and adjust their offering accordingly. You may find that some insurance providers will simply not provide cover on prefabricated building structures.
There are a couple of other tips to bear in mind when initially planning to buy a prefab and build your dream home.
First, consider hiring a local surveyor who has experience with prefabs. They'll be able to tell you whether the prefab you have in mind meets the latest building regulations and standards. You can then use their assessment when you approach lenders to flag any issues they may have early on.
Second, if there are prefabs in your area, you may find a lender locally who has some knowledge of this specialist market and will be more amenable. Otherwise you'll have to approach a broker in order to access specialist lenders and products.
How to Find a Mortgage Provider for a Prefabricated House
Unless there are a few prefabs in your area, you're unlikely to find a high street lender willing to take you on. The distinctive nature of prefabricated buildings and their perceived higher risk means that the best way forward is to use a specialist mortgage broker like John Charcol and have an adviser find you a suitable lender.
Finding the right lender can be the difference between success and failure. Some lenders simply won't consider financing a prefab, whereas others will make their decision based on the surveyor's report and property valuation. You'll therefore have to find a mortgage adviser with a whole of market reach to find a lender who is familiar with offering finance on prefab buildings.
What Other Types of Financing Are Available for a Prefabricated House?
If you're thinking of buying a prefab and assembling it yourself, consider a self-build mortgage. These are different to standard residential mortgages as the loan is disbursed in stages instead of a lump sum at the beginning. This is to enable you to manage your cash flow step-by-step, paying for materials, contractors and so on.
The length of the gap between the stages will depend on the lender. Self-build mortgages can be quite complicated, so it's best to find a specialist mortgage adviser to guide you through the process. Self-build mortgages can also be less competitive in terms of the size of deposit required and the interest rate offered.
Do Prefabricated Houses Maintain Their Value?
As prefabs are not constructed with the same materials as standard residential homes, they are typically worth less. The assumption is that prefabs will lose value over time. However, so long as you maintain the building, it's common for prefabs to appreciate, just as with standard construction properties. The value of your prefab will depend on the type of building and its location.
Are There Any Government Schemes to Help with Buying a Prefabricated House?
The UK Government is in favour of prefabricated housing. A government-backed scheme is currently being developed that should see more prefabs being built in the next few years. The Government also supports modular building methods, which are quicker and more cost-effective than conventional house construction techniques.
If you have any questions about mortgages on prefab houses, get in touch with our independent mortgage experts. At John Charcol, we have access to a huge range of mortgage products and lenders, including mortgages for prefab properties. We can help you find the right mortgage for your circumstances. Contact us today on 0330 433 2927 or submit an online enquiry to find out more.