For decades now, housing demand has greatly outstripped the housing supply. This has made it difficult to obtain low deposit mortgages for first-time buyers, as this supply and demand has raised house prices significantly. The UK government is taking steps to make it easier to get onto the housing ladder, through low deposit mortgage schemes.
Continue reading to find out how to get low deposit mortgages and rent to buy approval. First-time buyers will likely use these options for their first property investment.
New 95% LTV Low Deposit Scheme Launched in the UK post-Covid
Since April 2021, the UK government has highlighted a new 5% deposit mortgage scheme for first-time buyers. Current homeowners can also apply. The scheme is intended to be temporary, with a final application deadline of December 2022.
Banks and building societies included in the scheme are Lloyds, Santander, Barclays, HSBC, Natwest and Virgin Money.
Overall, the scheme allows any first-time buyer or existing homeowner to put down a 5% deposit and take out a 95% loan to value (LTV) mortgage. The maximum property value is £600,000, or equal to a £30,000 deposit amount. To make this possible, the government offers a guarantee to offset any potential losses incurred by banks, up to 80% of the property value. This guarantee is valid for 7 years after the mortgage starts.
Low Deposit Rent to Buy and Rent to Own Shared Ownership Mortgages
The Rent to Buy scheme has been active since September 2014. Rather than purchasing 100% of a property, the scheme allows first-time buyers to purchase a smaller portion while paying rent on the remainder — typically 25% or 50%.
Rent to Buy: England and Northern Ireland
Rent to Buy in England and Northern Ireland is a shared ownership mortgage scheme for first-time buyers.
You rent a new build property at 20% below the market rate, for up to 5 years. You are expected to set aside the 20% rental saving each month to be used as a deposit. Up to 5 years later, you can apply through the shared ownership scheme to obtain a 25% share, 50% share or 75% share of the property.
For example, this would look like up to 5 years of 80% rental costs compared to the market rate, allowing first-time buyers to save money for a deposit. This money would otherwise be spent on rent, which could prevent saving for a deposit. Buyers are responsible for saving the money from the discounted rent, rather than being saved on your behalf by the government.
If you pay a discounted rate of £800 per month, it can be assumed the original rent is £1000. For the full 5 year period or 60 months, you could save a maximum of £12,000 for the deposit. If the property is worth £100k, this could get you a 50% share in the property using a 76% LTV mortgage or 24% deposit. We recommend reading about high deposit, bad credit mortgages and how they increase your mortgage eligibility, despite the bad credit.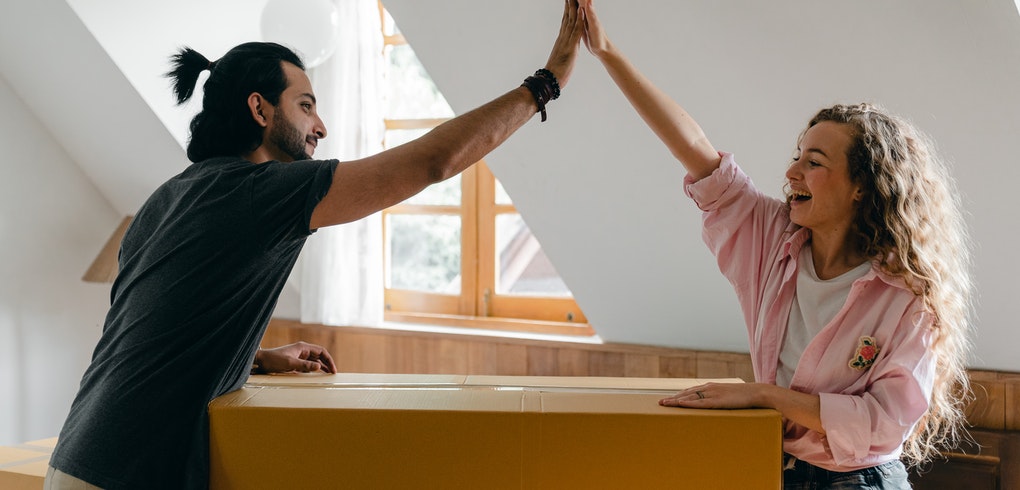 Rent to Own: Wales
Rent to Own in Wales is a little different to England and Northern Ireland.
So, you found a property that you'd like to buy. The scheme runs for between 2 to 5 years at 80% of the market rental price, which you pay. This 20% reduction compared to market rates allows first-time buyers to save for a deposit. Starting with the 2nd year and up to 5 years in, you can express interest to purchase the property. Upon application, you receive 25% of the rent you paid back, plus 50% of any increases in property value. These two amounts comprise the deposit, which you then use to take out a mortgage.
Say you rent a property using rent to buy at £750 per month, with a property value of £100k. After four years, you decide to purchase the property, which has increased to £150k in value. After 48 months (4 years) of rental payments are repaid at 25%, this will give you £9,000. Then, 50% of the £50k increase in property value adds another £25k to your deposit, resulting in a £34,000 deposit total.
Wales offer a 20% discount on the market rent, which buyers can leverage to save additional money for a deposit. Buyers are responsible for setting aside their deposit, the government does not set this aside for you. The Welsh government goes further than England and Northern Ireland by giving back 25% of your rental payments to contribute to the deposit. It also gives back 50% of any increase in property value, to offset the higher deposit required to take out a mortgage on a higher value property.
Low Deposit First-Time Buyer Mortgage Risks
While mortgage schemes help first-time buyers to get on the housing ladder, there are risks:
Negative Equity – Some schemes are for new build properties only. The second you drive away a new vehicle, it depreciates, with the same happening when you start living in a new build. This may lead to negative equity, which means you pay more in mortgage costs than the actual property value. If you want to sell the property or remortgage, this can lead to insufficient capital to repay the old mortgage and find a second deposit for the new mortgage.
Higher Interest Rates – A low deposit leads to a higher loan to value (LTV) ratio on a property. A higher LTV means more risk for lenders, which is what leads to higher interest rates. A higher LTV also means you pay interest on a larger chunk of the property, increasing the total mortgage interest accrued. Increases in property value may be eaten up by interest repayments, meaning this is something you should consider in the long term.
Losing Benefits of Remortgaging – Remortgaging is used to negotiate a better interest rate on existing mortgages. With a low deposit at 95% LTV, it takes many years to reduce the LTV to 80% or below, which is where you'll find the best remortgaging interest rates. Negative equity can also eliminate the chance of remortgaging, as the LTV rises instead of falls. Outside of initial fixed terms, this can lead to hefty interest charges on a bank's standard variable rate (SVR) – the UKaverage is 4.61% SVR as of March 2022.
If Circumstances Change, Can You Let Out Your Property?
We've explored Rent to Buy and Rent to Own, but these schemes require you to live in the property yourself.
Subletting is not permitted with these schemes unless you:
Need to move house temporarily – health problems, caring for family, career requirements, or limited personal reasons.
Financial difficulties – lost your job, reduction in household earnings, or change in circumstance resulting in unaffordable mortgage repayments.
Unsafe cladding – you can sublet to cover the cladding replacement costs for properties that require upgrading of unsafe cladding. This is only if you need to move temporarily or will struggle financially as a result.
Permission from lenders – If any of these circumstances apply, you also need permission from the mortgage lender and insurers to sublet. Unsafe cladding requires an EWS1 form to be submitted, or evidence from the freeholder or management company.
To overcome these limitations, there are Consumer Buy-to-Let mortgages.
Simply, Buy-to-Let is where you buy a property to be let to a tenant. The rental income supplements your other income, acting as security to make mortgage payments each month. Rental income must be between 25% and 45% higher than the mortgage repayment each month to qualify, depending on your credit rating. This means a £1000 mortgage payment each month requires £1250 per month (25%) or £1450 per month (45%) in rental income.
Sadly, Buy-to-Let is not available with a low deposit. These mortgages are normally interest only, with the buyer selling at the end of the term to cover the remaining mortgage costs. Because of this, 20% deposits are required as a minimum, with up to 40% deposits in high-risk cases. This is because Buy-to-Let does not pay for the property itself, only interest charges. If the property drops in value, banks may not be able to recoup costs as the deposit was only 5% or 10% of the property value. For example:
[1] £200 monthly saving * 60 months = £12,000 deposit
[2] 48 months * £750 = £36,000
£36,000 * 0.25 (25%) = £9,000
[3] £100k property increases to £150k.
£50k increase in value * 0.5 (50%) = £25k.
[4] £9k + £25k = £34k deposit
If you still have any questions regarding Rent to Buy or low deposit mortgages, don't hesitate to get in touch with one of our expert advisers. Call us today on 0330 433 2927 or submit an online enquiry.