Discovering that the home you want to buy is a flying freehold doesn't have to mean the end of your home-buying dreams. Flying freeholds can make the process of getting a mortgage more complex, and there are a few more things to consider than with a regular property. But plenty of lenders are willing to approve mortgages on this type of property if you know where to look. Buying a freehold property could be a great decision if you do your homework and get advice from a conveyancing solicitor and mortgage broker.
In this guide, we'll explore how flying freeholds work, how to get finance and the potential pitfalls of a flying freehold mortgage that you need to be aware of. We'll also answer the important question: can you get a mortgage on a flying freehold?
What is a Flying Freehold?
A flying freehold property is where a section of it comes under the freehold ownership of an adjacent property. This is often the first-floor room structurally above or overhanging part of a building that's owned by the property next door. The upper property owner doesn't own the land or building underneath the "flying" part. Some examples of flying freeholds include:
Multi-storey buildings where the layout of the rooms prevents a vertical division
Properties which rely on structural support of an attached property, for example, those situated on a steep hill
The property has a balcony that extends over land owned by someone else
There's a room on the upper level which extends over a shared archway or walkway
Some people may not even realise they live in a property with a flying freehold. Sometimes it's only discovered during the sale or purchase of a property.
What is the Difference Between a Freehold and a Leasehold?
There are two main types of property in England and Wales, freehold and leasehold, and there are some important differences between the two:
Leasehold
A leaseholder owns the property but not the land the property was built on. This is owned by the freeholder. Your ownership of the property is also for a set time (a leaseholder technically owns a lease allowing them to occupy the property), which can be for a certain amount of years, decades or centuries. Most flats are leasehold properties with the builder usually the freeholder. However, with some flats, especially those in converted houses, the owner shares the freeholder with the other flat owners in the building.
Freehold
A freeholder owns the freehold of a property, including the land it was built on, for an unlimited time. You'll be the owner until you choose to sell or pass the title on to a different party. Houses are typically freehold properties, although while more unusual, there have been some houses sold as leaseholds.
What Are the Potential Issues with a Flying Freehold Property?
Several potential issues can arise with a flying freehold property, for example:
Property Owner Refuses Access – a neighbour may refuse the homeowner access to their property, despite there being the necessary access rights in place
Disputes Between Freehold Owners - neighbours may disagree over the freehold, making it difficult to come to agreements on access or future repairs
Noise Between Lower and Upper Properties - if the flying freehold element concerns part of the property that underlies or overhangs the adjacent property, without sufficient insulation, noise from one property could adversely affect the other (and potentially vice versa)
Right to Put Up Scaffolding on the Property Above or Below the Freehold - while the owner of the property above may require the use of scaffolding, the owner of the lower property may refuse access or charge a fee
Legal Rights Don't Always Mean Neighbours Will be Cordial - even with the appropriate legal rights in place, it doesn't mean that neighbours will be accommodating or honour any prior agreements. Sometimes, the only way to resolve flying freehold disputes is through the courts, which can be very expensive
Water Leaks from Flying Freehold to Neighbour Property - if the flying freehold element contains a bathroom that leaks, it may put the underlying property at risk
Inadequate Maintenance on Flying Freehold - a property owner is not legally obliged to maintain their property or make repairs. But if they have a flying freehold element to their property that falls into disrepair, it could cause serious problems to the adjacent property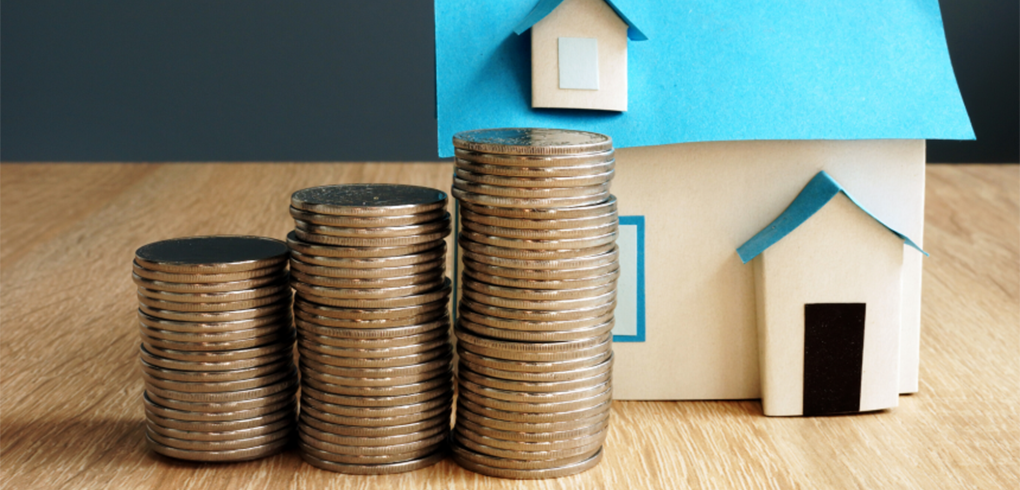 What is a Flying Freehold Mortgage?
If you're wondering, can I get a mortgage on a flying freehold? The answer is yes, but you'll need a flying freehold mortgage. Due to the complex legal covenants associated with these homes, some lenders will refuse to lend on this type of property. Getting a mortgage for this type of property is still possible, especially if only a small part of the property is flying freehold. However, most lenders will have specific criteria to meet before your mortgage application is accepted. These criteria will vary depending on the lender.
Freehold maisonettes and flats aren't very common. However, they do exist and can be more challenging to mortgage. There are also several legal issues to consider when flying freehold properties, and lenders typically consider applications on a case-by-case basis. Most lenders will only consider properties where the freehold makes up less than 20% of the total floor area, although this specific percentage can vary according to the lender.
Most flying freehold lenders require at least a 20% mortgage deposit, although some will accept 10% to 15%. Before a lender approves your application, your solicitor must confirm that there are sufficient rights of support and that there's a process for enforcing maintenance or repair.
What Issues May Arise When Applying for a Flying Freehold Mortgage?
Each lender has its own approach to flying freeholds. Most will consider this type of property depending on the size of the flying freehold element covering the total floor area.
Issues can arise when mortgage lenders for flying freeholds look much deeper into the wording of the title deeds to ensure that the flying freehold elements have been documented accurately and all the appropriate covenants are in place. Flying freeholds must be registered with Land Registry. Otherwise, the property will be unmortgageable.
Additional complications may arise if there's no express agreement as each landowner will have limited rights to each other's property or land. One landowner cannot force the other to keep their property well maintained, even if one property element structurally depends on another or where the flying element is in disrepair and may harm the adjacent property. Furthermore, if an owner cannot carry out works on the property because of issues concerning rights of access. This can make getting finance very difficult as lenders prefer properties to have a clean title.
Examples of Lender Restrictions
Here are some examples of which lenders will consider a mortgage on flying freehold property and the restrictions they may impose:
Lender

Flying Freehold Criteria

TSB

No maximum
Solicitor confirmation that title deeds cover flying freehold portion

Nationwide Building Society

Maximum 99% freehold element

Natwest

No Maximum
Requires solicitor confirmation that title deeds cover flying freehold part of the property
Solicitor confirmation of marketability
90% maximum LTV

Coventry Building Society

Maximum 25% freehold element

Virgin Money

Maximum 20% freehold element

Barclays

Maximum 15% freehold on old properties
Up to 15 sq m over vehicular access for new properties

Suffolk Building Society

Maximum 25% freehold element

Mansfield Building Society

Maximum 25% freehold element
These are just a few of the lenders that offer flying freehold mortgages. The best way to find the right lender for a flying freehold mortgage is by speaking to our team of independent mortgage brokers at John Charcol.
What Should I Look Out for When Buying a Flying Freehold Property?
If you're considering buying a flying freehold property, you must check that the flying freehold has been correctly established. The flying freehold should be reflected in the title deeds irrespective of whether or not they're registered at the Land Registry for either underlying or overhanging properties.
Covenants
There should also be the necessary covenants that provide the necessary rights to enter the next-door property to repair or inspect as required. These covenants must also prevent your neighbours from making alterations to their property which may impact the structural integrity of the part of the building that overhangs or underlies yours.
Legal Options
According to the Neighbouring Land Act 2002, property owners are entitled to access adjacent properties to make necessary repairs to their own property, but not their neighbour's property. This can become challenging if the condition of the next-door property affects your ability to repair your own. A new deed of covenant can be created between two freehold owners, giving them equal rights and obligations. But this doesn't automatically transfer to new owners. They would have to agree to this agreement to be upheld after the sale. It can be a long and expensive process, but it can sometimes offer an immediate solution.
Indemnity Insurance
Mortgage lenders for flying freehold mortgages will typically require you to arrange flying freehold indemnity insurance as a condition of approving the mortgage. There are specialist insurance providers who offer this type of cover. Indemnity insurance is essential for the homeowner as it provides compensation should the flying freehold status be omitted from the property deeds. It can also finance any legal issues a homeowner may face with neighbouring freeholders should they arise. Your indemnity insurance cover may become invalidated if you make any structural renovations to the property. Therefore, it's important that you carefully read the terms of the policy.
Who Owns the Roof of a Flying Freehold Property?
The owner of the roof of a flying freehold property is whoever owns the upper part of the property. However, if the roof needs repair, both homeowners are usually responsible for paying for repairs as each will equally benefit from a repaired roof. Your solicitor will be able to verify who is responsible for the roof's maintenance and repair during the conveyancing process.
What Can I do if a Property is Affected by a Flying Freehold?
If you're looking to buy a flying freehold property, there are several options available to you:
Alternative Structure
It's sometimes possible to convert a flying freehold to a leasehold. This will create just one freehold with a long lease (999 years) for the adjacent owner along with the necessary rights and positive covenants as part of the leasehold but won't be affected by a sale of the freehold in the future. However, switching to a leasehold can be a slow and expensive process and may have tax implications, so you must get professional legal advice if you choose this option.
Title Indemnity Insurance
Title indemnity insurance covers the loss of value if there's damage caused to the property due to the lack of repairs of the adjoining property and any legal action taken against the owner. However, if this fails to resolve the situation, there are no rights of access, and the insurance can soon be invalidated by redevelopment or structural alterations made to the property.
New Mutual Agreement
A deed of covenant that varies the title deeds can be put in place between two owners, which outlines mutual rights and obligations. The agreement only binds future owners if they agree to it when they buy the property. The new mutual agreement can be reinforced by registering a restriction on the title deeds with the land registry. However, this can be time-consuming and expensive to do, especially as there's no incentive for the non-selling owner to act quickly.
Is it Possible to Buy a Flying Freehold Flat?
Flats aren't usually considered flying freehold, although some do exist. Most flats tend to be sold as leasehold properties as the property owner doesn't usually own the land the flat is built on. Freehold flats are rare and can be much more challenging to get a mortgage on.
Can a Flying Freehold Impact the Sale of My Home?
If a large proportion of your property is a flying freehold, fewer lenders may be happy to offer a mortgage, reducing the number of interested buyers. Potential property buyers may also be put off if it's unclear who is responsible for maintenance, as buyers and lenders may have concerns over the potential for disputes in the future. A buyer's conveyancing solicitor should seek clarification of any uncertainties regarding the flying freehold. But if you're responsive to their enquiries and they find the information they require, this shouldn't create a roadblock to the sale.
Don't be tempted to avoid disclosing the flying freehold element to potential buyers. It will be picked up during conveyancing anyway. Making prospective buyers aware of it early in the property purchase process will give them plenty of time to ensure their chosen lender will approve a flying freehold mortgage rather than waiting further down the line during the conveyancing process.
Are Flying Freehold Properties a Good Investment?
A flying freehold doesn't automatically mean a property isn't a good investment. However, these properties do come with more risk than others, especially if there are no right agreements in the title deeds.
As with any property purchase, buying a flying freehold property requires careful consideration and professional legal and mortgage advice. You'll also need to factor in the extra costs involved with this type of property, including a flying freehold indemnity insurance policy and legal fees. If there are the necessary positive covenants in place, combined with an appropriate insurance policy, buying a flying freehold can be a sound investment.
If you need a flying freehold mortgage to buy your next property, your best option is to get in touch with an independent mortgage broker at John Charcol. We have access to an extensive range of lenders and can help you find the right flying freehold mortgage lender at a competitive rate. Contact us today on 0330 433 2927 or submit an online enquiry to find out more.