Can You Remortgage to Pay Off Debt?
It is possible to consolidate debt by remortgaging. Essentially, you remortgage your property with a lender to release equity and raise money. You then use this money to pay off unsecured debts.
Instead of multiple unsecured debts, you have a single monthly payment that you make to the lender. This payment is made up of a mortgage repayment and interest.
Debt consolidation can help you clear debts, save yourself stress and organise your finances. However, it's important to note that you could end up paying more overall with a debt consolidation remortgage, than if you had continued to manage your unsecured debts, as the mortgage will be spread over a longer term – i.e. you would be paying interest for longer. Find out how long it takes to remortgage.
Remortgage for Debt Consolidation Eligibility
When Can You Remortgage?
Remortgaging is when you switch to a new product with a new lender on a property you already own. You can remortgage from 6 months after your name went onto the title deeds of your property.
If you currently have a mortgage secured on your property and you're approaching the end of your introductory rate period, you can start to arrange your remortgage up to 6 months in advance of the end of this period - or sooner if you're on a variable. Find out how to remortgage and what the best remortgage rates are available to you.
The amount you can borrow when you remortgage will depend on your affordability, the value of your property and the equity you have in your home. Most lenders also stipulate that you must remortgage for at least £25,000. Read our mortgage deposit guide to undertstand more about how LTV affect your mortgage rates.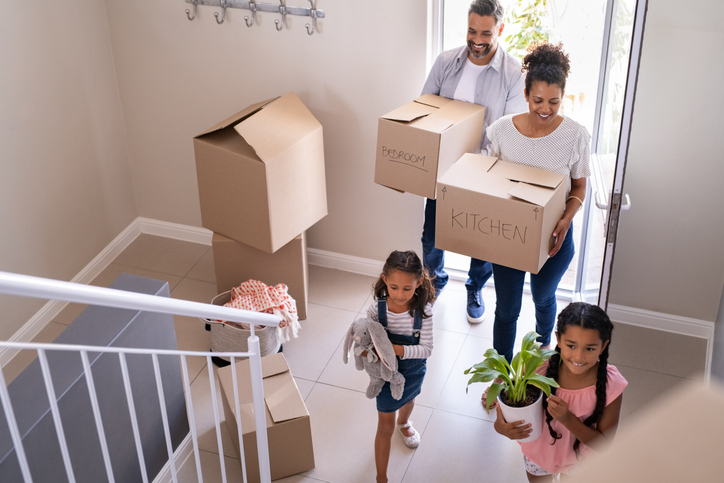 What Types of Debt Can You Consolidate with a Remortgage?
A remortgage can help you consolidate the following types of unsecured debt:
Credit cards
Store cards
Overdrafts
Personal loans
Car finance
Money borrowed from family and friends on which you pay interest and there is an agreement in place
What Types of Debt Can't You Consolidate with a Remortgage?
You can't consolidate unsecured borrowing with 0% interest, such as a 0% credit card. This is because it wouldn't make financial sense to consolidate these interest-free debts onto a mortgage on which you would pay interest.
Can You Get a Remortgage for Debt Consolidation with Bad Credit?
It is possible to get a debt consolidation remortgage or loan when you've got bad credit due to missed payments or CCJs (county court judgements). What's available to you will depend on your individual situation. It is helpful to know your credit score and be able to provide this information to your mortgage broker.
Our team have access to specialist lenders that don't take into consideration your credit history when assessing your application. These lenders underwrite on a manual basis and look at your unique position.
Find out more from one of our expert mortgage advisers about how to remortgage with bad credit at: 0330 433 2927.
Borrow More on Mortgage to Consolidate Debt – How It Works
If you already have a mortgage on your property, you'll need to remortgage with additional borrowing which means taking out a mortgage for an amount greater than your remaining mortgage balance - also known as a "capital raising mortgage". This allows you to release some of the equity held in your home and convert that to money. The new mortgage takes the place of your existing mortgage. You can then use the excess money from the remortgage to pay off your unsecured borrowing and consolidate your debt.
How Much Can I Borrow?
How much you can borrow will ultimately depend on your affordability, the value of your property and the equity you have in it.
Your mortgage broker will help you figure out how much you can borrow and guide you through the remortgage process. Speak to an expert adviser today at: 0330 433 2927.
What If I Don't Currently Have a Mortgage on My Property?
If your property is unencumbered – i.e. you don't have an existing mortgage on your property - you can typically remortgage at up to 85% LTV (loan-to-value) depending on your affordability. This means you could release up to 85% of the equity in your home. It is possible to remortgage at a higher LTV - 90% mortgage or even 95% mortgage - but only a handful of lenders will go to 90% or 95%.
Debt Consolidation Remortgage Process
1. First Call
You call us or arrange a call back and speak to one of our expert mortgage advisers. We take some details from you then arrange a follow up mortgage appointment to talk about our recommendation.
2. Decision in Principle
Once you're happy with our recommendation and want to proceed, your adviser will go about securing your mortgage DIP (Decision in Principle) which is basically a promise from the lender that they'll let you borrow a certain amount of money based on the condition that the information you've provided is correct and subject to a valuation on the property.
3. Pre-Application and Submission
After securing your DIP, we'll start to prepare your mortgage application. We'll send you a pack that explains the different documents the lender needs. Your adviser will then pass you onto a client relationship manager who'll help you get everything ready for submission. Your adviser will then submit your full mortgage application.
4. Lender Underwriting and Valuation
The lender underwrites your application which means they check all the information and documents you've provided. They'll also instruct a valuation on the property.
5. Mortgage Offer
Following a successful underwriting process and valuation, the lender will accept your application and send you a mortgage offer. They'll also send us a copy.
6. Conveyancing
Once you accept the mortgage offer, you'll go through conveyancing. This is where your solicitor arranges all the legal paperwork that lets you transfer from your existing lender to the new one. Read our guide on "Do I need a solicitor to remortgage?"
7. Completion
Finally, after you've signed all the paperwork, your solicitor will set a date to draw down the new funds and clear the amount outstanding with your existing lender. Any excess money will be returned to you. This is called completion. You can then use this money to pay off your unsecured debts. By doing this, you'll be consolidating your debts into your mortgage which you'll repay via monthly payments consisting of mortgage repayments and interest payments.
Should I Remortgage to Consolidate Debt?
Pros
You could save yourself a lot of worry and stress by consolidating multiple unsecured debts into one monthly payment
You could avoid penalties that would come from missing any unsecured debt payment deadlines like damages to your credit score or going into arrears
It can make your finances simpler and easier to manage
Cons
You could end up paying more overall because you would pay interest over a longer term
You may be in debt for a longer period of time
You would reduce the equity in your home by borrowing more on your mortgage
You're securing debt against your home, instead of having it as unsecured debt
There could be some mortgage ERCs (early repayment charges) you might have to pay if:

You're still in your introductory period on your fixed rate
You want to repay your unsecured borrowing early – e.g. within the 90 days settlement period
What's the Best Remortgage to Consolidate Debt?
There isn't one single best debt consolidation remortgage option. It all depends on your unique situation.
The options available to you will depend on:
Your affordability – i.e. how much you can borrow based on your income
The equity in your property – the more equity you have in your home, the more you may be able to release to raise money
The value of your property – the higher the value of your home, the greater the amount you can borrow on it
Your credit score – bad credit as a result of debt may limit your borrowing options
Bad credit or limited affordability may restrict the products and lenders available to you, but this doesn't mean you won't find a suitable option. At John Charcol, our mortgage advisers assess your situation and requirements, figure out what lenders and products are suitable and manage the entire remortgage process for you. We'll find you the very best option for your circumstances. Read our Bad Credit Mortgage Guide.
Who Are the Best Debt Consolidation Mortgage Lenders?
Most lenders on the market will consider remortgaging for the purpose of debt consolidation, including but not limited to:
HSBC
Barclays
Santander
Halifax
Skipton
Bank of Ireland
Virgin
However, if you have a particularly complex situation you may need to go to a specialist lender that carries out underwriting on a case-by-case basis, including but not limited to:
Bluestone
Together
Kensington
Pepper Money
Precise
The Mortgage Lender
You'll likely need to use a mortgage broker like John Charcol to access these specialist lenders as they often require that each applicant comes through an intermediary.
Other Debt Consolidation Options
Further Advance
You may be able to take out a further advance with your existing lender instead of a remortgage. Further advances can be a more cost-effective option if you're still on your introductory rate and would face ERCs (early repayment charges) by remortgaging early as they allow you to borrow more while keeping your current mortgage. Your further advance rate may be different from your existing mortgage rate but they are both with the same lender.
Second Charge
A second charge may be a more suitable option if you existing lender can't grant you a further advance and/or you face high ERCs which would make remortgaging more costly. With a second charge, you keep your existing mortgage (the first charge) on your home and take out a second mortgage (the second charge) on the property. You then have 2 charges on your property. These can often be at different rates and for different terms.
You can find out more information on further advances and second charges on our website or speaking to one of our advisers by calling: 0330 433 2927.
What Questions Will You Ask?
We'll need you to provide us with some personal information so that we can make an informed decision as to whether debt consolidation is right for you and which option would work best – whether that's a remortgage, further advance or second charge.
We'll ask for basic information such as:
Your personal details
Your income
Your expenditure
Insight into your personal and future circumstances
Your adviser will also require some more detailed information regarding your debts, such as:
The types of debts you currently have
The amount of each debt
Who each debt is with
What the interest rate of each debt is and any promotional deals
Whether there are any redemption costs and their amounts
Your current monthly contributions/payments towards the debts
How these debts built up – this is simply to help us make sure that any future borrowing is manageable
Finally, we'll ask for the following documents:
A bank statement for the last 3 months – all applicants must provide this
A recent credit file – all applicants must provide this
A recent credit card statement for all debts
Loan statements for all debts
Evidence of income such as last 3 months of payslips/or tax calculations and overviews – all applicants must provide this
Further Support for Debt Consolidation
Debt can be extremely stressful, so it's worth seeking external support if you need someone to talk to, you're struggling to keep on top of your debts or even if debt consolidation just isn't right for you.
Some organisations and charities that can help you manage your debts include: