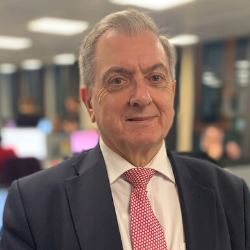 Ray
Boulger
Senior Mortgage Technical Manager
His work for John Charcol
Ray Boulger is the senior mortgage technical manager at John Charcol and one of our primary spokespeople. He is an expert in his field and is regarded as an authority within the mortgage industry.
Ray is always commenting on the mortgage and property market and is unafraid to give his honest, unbiased opinion. He has his own blog with John Charcol and he often features in blogs and videos produced by other members of our team.
He also writes responses to FCA consultation papers on behalf of John Charcol.
As one of our spokespeople, Ray is regularly approached by well-known publications seeking his expertise, including: The Guardian, The Times, The Telegraph, FT Adviser, Mortgage Introducer, Financial Times, Mortgage Strategy and more.
Ray also regularly shares his insight with our advisers and keeps them up to date on big trends and changes.
Career
Ray has spent his entire working life within financial services. He trained for 5 years with a firm of chartered accountants and then worked for 18 years as a stockbroker. Ray spent most of this time as an institutional gilt edge and fixed interest expert.
Ray was an IFA and joined John Charcol in 1989 as a consultant. He has held his current role of senior mortgage technical manager since 2001.
He is a board member of the AMI (Association of Mortgage Intermediaries) and a member of the Bank of England Residential Property Forum.
Awards
As a recognised and respected figure in the industry, Ray has received numerous awards and accolades from journalists and the mortgage trade press.
These include:
The Mortgage Strategist of the Year and The Guru of the Year at the headlinemoney.co.uk awards
Press Spokesperson of the Year at the British Mortgage Awards
The Lifetime Achievement Award at the Mortgage Strategy Awards